Meet world traveler Holly Rosen Fink (@theculturemom).
Holly has two kids, 8 year-old Olivia and 7 year-old Max. She lives in Larchmont, NY in Westchester County, just 15 miles north of NYC. Here's Holly's spotlight: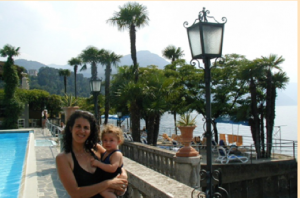 ABOUT LARCHMONT
There are many families who come here from abroad to live here for short stints, many to work for the U.N. There's a French school, French bistros and a French wine shop. I'm married to an Englishman so we are very comfortable here as all of our friends are from other countries.
NYC is a short train or car ride from here, just 30 minutes, so it's easy to take advantage of the city's cultural offerings, or we can easily shoot over to Queens and Brooklyn for ethnic fare, like Indian food in Jackson Heights, Greek food in Astoria Thai food in Bayside. We love strolling around Williamsburg and exploring its boutiques and art galleries. During the summer, we go to the beach and go sailing right here in our town.  The rest of Westchester is beautiful, and there are many hiking trials located throughout the county or we can drive to the Hudson Valley or Rockland County for great views of the river and for a bit of Bohemian culture.
TRAVEL STARTS
I started traveling at age 16 when my parents sent me to live in Israel to study.  I returned to the country a few years later as a college freshman and traveled from one end to another, learning Hebrew and living amongst Israeli natives on a kibbutz and moshav (Israeli settlement) and studying at Hebrew University.  I returned several times during college and right after senior year, I moved abroad to live in London.  Before settling, I traveled through Greece and Italy and after my working visa was up, I went back to travel through the rest of Europe on my own.  I visited the concentration camps, roamed the streets of Paris, went to an opera in Vienna and had the time of my life.  Life has never been the same since.
When I met my British husband, we bonded over our love of travel and it has always been a big part of our lives.  Having children has not slowed us down in the slightest.  On the contrary, it has inspired us to share the world with them.  My daughter took her first trip to the UK at age 1, my son at 6 months.
MOST IMPORTANT THING PARENTS SHOULD REMEMBER WHEN TRAVELING WITH KIDS
When they were very young, we realized that sticking to a routine was impossible, and that it was fine to be flexible while we were away.  Kids can always bounce back at the trip's end.  Before we'd depart, I'd pack their special suitcases with a dozen or so new items from a $1 store to make the plane rides extra special and keep their attention for the long plane rides abroad.  It's also important to remember that your trips aren't going to be like the ones you took pre-kids.  You can't do everything on your wish list, you have to spend more time on playgrounds with toddlers and cater to their needs.  But it's our trips to Iceland, Scotland, France, Italy, the Czech Republic and Germany that are most memorable for us…and them.
ALL THE PLACES HOLLY HAS LIVED AND TRAVELED
I've lived in Jerusalem, London and NYC.  I'm actually from Atlanta.  We've been to much of Europe, Israel, Egypt, Mexico and various parts of the Caribbean.  We went to Belize and Costa Rica on our honeymoon.
MOST SPECTACULAR HOTEL/RESORT HOLLY'S STAYED IN
Grand Hotel Villa Serbelloni in Lake Como.
FAVORITE DESTINATION SO FAR
With children, I love Italy. Italians love children, the food is wonderful and the whole country is stunning.
NEXT STOP
We are headed to England next month, to Manchester, London, to spend Passover with my husband's family.  We'll spend 5 days in London roaming the streets and sites while my husband is at work, giving us the opportunity to explore the city's museums.
HOW HAS TRAVELING ABROAD CHANGED THE WAY YOU VIEW THE WORLD AND YOUR PLACE IN IT
It's definitely opened my eyes to see how other people live, eat and speak.  I want my children to have these experiences, too.
Read more about Holly's travels in New York and abroad at www.theculturemom.com.