Mom Traveler Spotlight: Meet Candice Broom(@MomMostTraveled):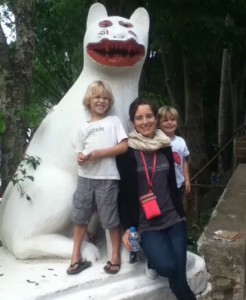 Candice has two kids. Here's her adventure:
WHERE DO YOU LIVE
Currently I live in Brooklyn, New York, but the inspiration behind starting MomMostTraveled.com came when I lived in Laos, a small country in South East Asia. I lived in Asia from 2002 until 2010, first in Beijing, and then in Vientiane, Laos.
TELL ME ABOUT LAOS
It might surprise you to find that Laos is a very family friendly destination. Lao people love children, and having kids with you makes you more approachable. This levels the playing field for all kinds of "authentic" travel experiences.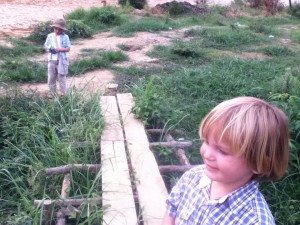 In Vientiane, the capital, families will enjoy visiting Patuxay, a giant monument modeled after the Arch De Triumph. From the top you have the best view of the city! Buddha Park is a short drive away. It is a sculpture garden created by a tripped out monk. A very interesting place to spend a few hours.
THE FOOD
Vientiane is an international city; it is an amazing place to eat. You can get real Italian food made my real Italians…I'm talking about hand made pasta for less than $7 a plate…real French food, Indian, Japanese, Thai, Belgian, Chinese…its all there, all cheap, and all delicious.
ACCOMMODATIONS
I would check out lodging in the downtown area near the Mekong River, where all of the action happens.
YOUR TRAVEL ROOTS
My dad traveled a good deal for work, so we always went places together as a family in the summers. He had a yearly convention that we typically traveled to with him. I don't ever remember not traveling.
MOST IMPORTANT THING PARENTS SHOULD REMEMBER WHEN TRAVELING WITH KIDS
I think the most important thing is to RELAX. Your children mirror your emotions back to you. If you are tightly wound and stressed when you board the airplane with them, they are going to pick up on that. Just chill, you will get through it, I swear!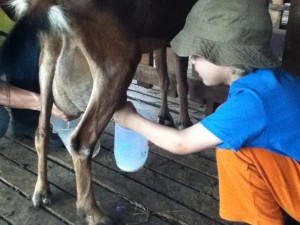 BIGGEST CHALLENGE TRAVELING WITH KIDS
My kids are 4 and 7 now, but I did find it a bit frustrating to juggle nap times in the early days when we were out and about. It really limited how much action we could fit in to one day. Other than that, my biggest challenge was flying more than 36 hours
with the two of them, as the only adult. I did that more than once between Asia and the US.
ALL THE PLACES CANDICE HAS LIVED AND TRAVELED
My whole life history of places I have lived includes Florida, Texas, Alabama, New York, Belize, Laos, and China.
I have traveled to Thailand, Cambodia, Vietnam, Singapore, Malaysia, Indonesia, Bahamas, Jamaica, England. US: Arizona, California, Georgia, Hawaii, Illinois, Maryland, Massachusetts, Mississippi, North Carolina, Pennsylvania, Tennessee, Virginia, West Virginia.
FAVORITE U.S. AND INTERNATIONAL DESTINATION
My favorite US destination was Lancaster County, PA. I loved hanging out with the Amish people and I had dinner in an Amish home. I also went to Hershey Park and I was really impressed with how nice and clean it was. I guess they call it "dirty south" for a reason. Am I right? 😉
My favorite international destination might be Hoi An, Vietnam. It is an adorable historic port town and much more laid back and artsy than the other parts of Vietnam I have been to. I also had a great time in Bali, staying on Nusa Dua beach and exploring Ubud, the art district.
MOST SPECTACULAR HOTEL/RESORT YOU'VE STAYED IN
Hmm. As for the resort itself, Atlantis Resort Bahamas is probably the most expensive place I have ever stayed. My room wasn't that special but the property as a whole is impressive. In Bali I stayed at a Novotel resort, I believe, in Nusa Dua. It was
our airline miles rewards. The rooms were really pretty and it had a kids club for ages 4 and up that my older son didn't want to part from!
NEXT STOP
I'm not sure, but I recently won a week in US Virgin Islands at the Buccaneer Resort! I will be taking that trip some time before December 2012 when my voucher expires. 🙂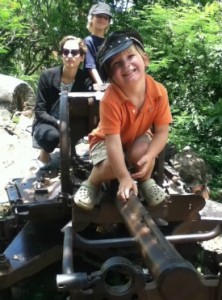 HOW HAS TRAVELING ABROAD CHANGED THE WAY YOU VIEW THE WORLD AND YOUR PLACE IN IT
I was already laid back, but I think I'm even more "go with the flow" now as an adult than I was before I lived abroad. I love trying new things and meeting new people, and I think I'm more likely to examine "why" people do things or think about things in a certain way, rather than judging their way as right or wrong.