Yesterday I had an interesting conversation about travel with the wife of one of my husband's coworkers. I asked her how often she and her family traveled and she in turn asked me, "how do you define travel?" I was pleasantly surprised to get that follow-up question because it's one of the major points I like to make with families who feel constrained by finances. As this new "friend" agreeably pointed out, travel for them is anything from flying across the Atlantic to driving across the bridge. Cheers!
It's with great pleasure that I introduce you to a guest blogger for Mom's Guide To Travel, Meg Pfeiffer. Meg lives in NW Indiana, about 45 minutes from Chicago and she and her family enjoy exploring big cities as well as small towns. She too embraces the broad definition of travel which is apparent in the title of her blog, Adventures as A Small Town Mom. She's a sweetheart and was kind enough to share with us a holiday tradition she enjoys at the Columbus Zoo and Aquarium, a place families should consider visiting during and outside of the holidays. ( I especially like the low prices and hearing about Santa scuba diving!)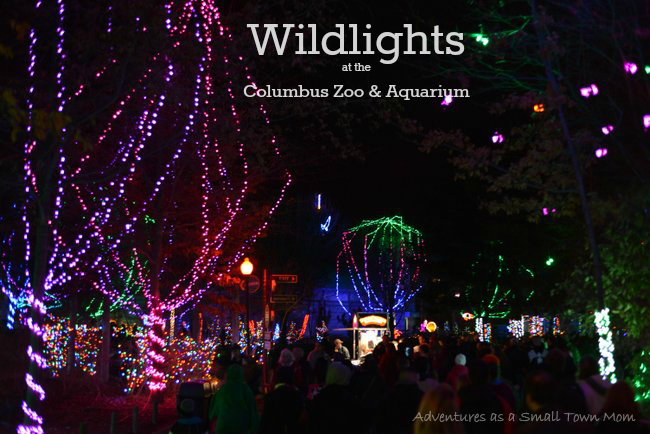 If you have ever lived in Central Ohio, you have likely heard of and experienced the Wildlights at the Columbus Zoo and Aquarium. 2013 marked the 25th anniversary of one of my favorite Central Ohio family, holiday traditions. With more than 3 million lights, our visit to the Columbus Zoo and Aquarium did not disappoint.
Being born and raised in the area, I remember strolling through the zoo lights as a child with my parents while sipping a cup of hot chocolate. Even though my kids and I no longer reside in Ohio, I made sure to plan a special trip to the Wildlights while we were in Columbus over the holidays visiting family and friends.
Here are a few of our favorite moments:
1. Watching the Holiday Light Show at Conservation Lake
My daughter shrieked with excitement when the animated display started with, "All aboard!" and music from The Polar Express movie. She danced around the entire eight minutes while the rest of us watched and listened to the holiday music. Here is a short clip I took of the Holiday Light Show:
2. Taking a Stroll through North America and the Polar Frontier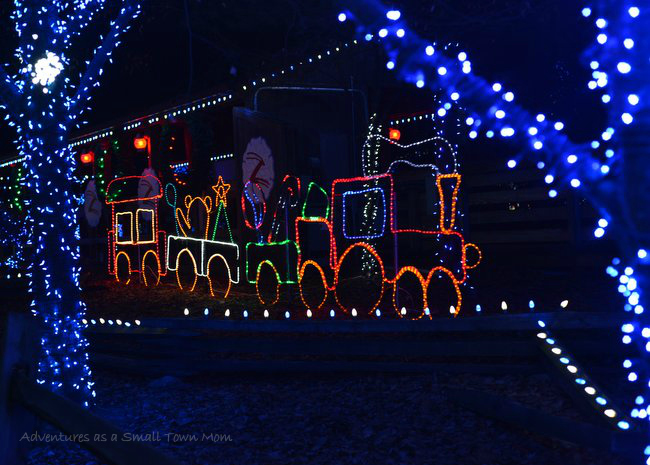 North America has always been my favorite section to walk through for Wildlights. This area includes the Bob Evans Polar Bear Express Train Ride for a $1 per ride per person and Santa's Reindeer Corral where my kids waved hello to Santa's animal friends. When we made it back to the Polar Frontier we were able to sneak a peek at the brown bears fast asleep by their exhibit window. Note: The Polar Bears were not on exhibit during Wildlights.
3. Visiting Discovery Reef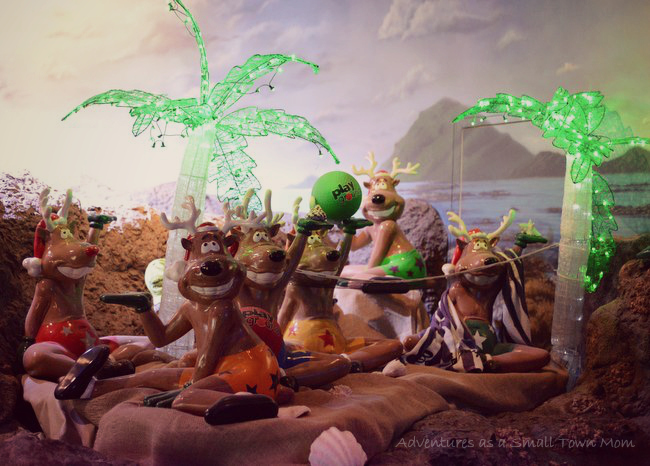 Rudolph the Red Nose Reindeer and his friends greeted us when we entered Discovery Reef. Both of my kids were mesmerized standing in front of the 100,000 gallon aquarium filled with tropical fish. We could have easily spent hours at Discovery Reef. Note: During Wildlights, there is a special Santa Scuba Dive nightly at 6:00 p.m. (additional dives at 8:00 p.m. Thursday thru Sunday).
4. Riding the 1914 Mangels-Illions Grand Carousel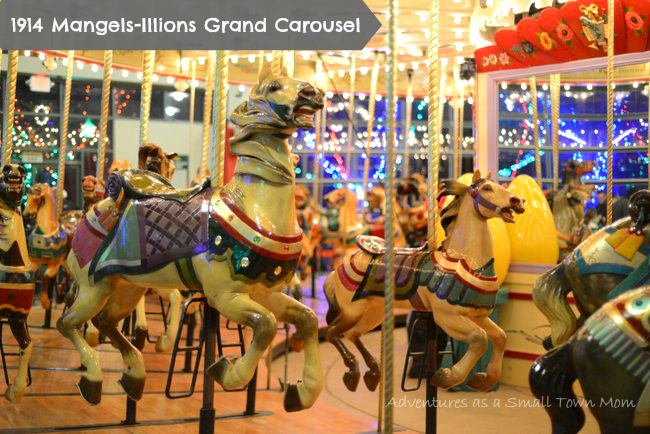 Both of my children loved riding the carousel for just a $1 per ride per person. The 1914 carousel, complete with 52 original horses, chariots and band organ, was especially fun to ride at night with the holiday decorations and music as a backdrop. Note: The historic carousel is open at the zoo year-round.
I am so glad I was able to share this experience with my children. It was a great way to spend time together as a family and enjoy the holidays. Definitely a must-see when in Columbus during the holiday season!