I consider myself an adventurous eater but I never thought I'd venture to eat Lebanese food. To be honest, I didn't really know what Lebanese food was but I'm so happy that I got a chance to discover it. I checked out Lebanese Taverna in Baltimore's Harbor East neighborhood and realized how much I'd been missing.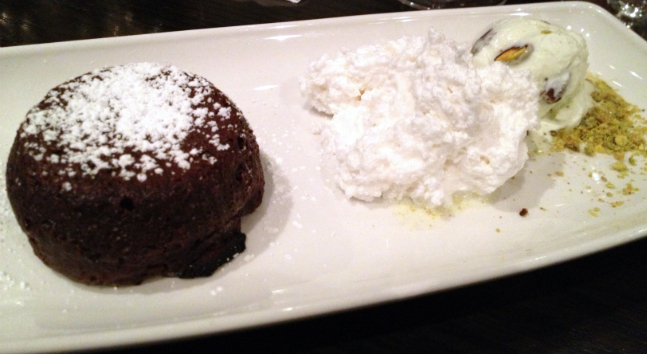 I went to the restaurant with a group of other travel writers and I'd have to say that going as a group is probably a better experience. You have a chance to sample a nice selection of different foods from the menu and not over-stuff yourself. It was also a nice opportunity to experience a different culture with other adventurous spirits. We started off with the Chef's platter which was a sampling of hommos, baba ghanoush, tabouleh, lebneh, grape leaf, falafel, fatayer spinach, kibbeh, foole m'damas. It's funny what food can do to your senses. The smell of the spices enveloped me, transporting me away from Baltimore to a Syrian restaurant I dined at ten years ago in Cyprus.
The delivery of our entree and what followed brought me back.
One of our colleagues didn't get the memo that we were dining family style. So when our server delivered one of the plates of fragrant flaky Mediterranean sea bass, and placed it near him, he kindly put the plate square in front of himself, started moving veggies around, and was 2 seconds from digging in when one of our hosts politely uttered, "Ahem, we're all sharing tonight." It took every ounce of professionalism for me not to burst out into hysterics. I got it! I knew where he was coming from – he was ready to dig in.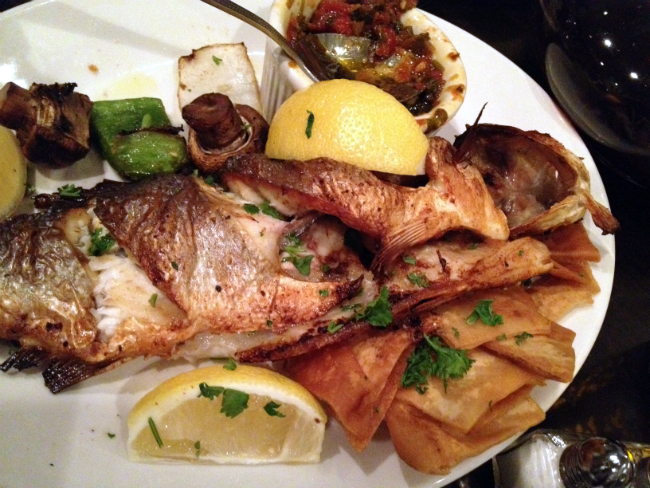 Had that been my husband, a Charleston native who loves eating whole fish, there would've been no sharing. Turns out, even with the sharing, his side of the table couldn't finish the entire fish. Lamb, beef, chicken, rice, and other Lebanese specialties kept making their way to our table.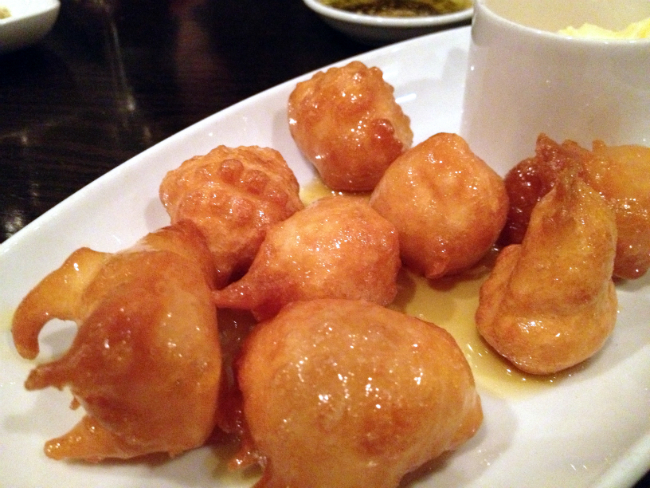 Besides the good food, beautiful decor, and very friendly staff, what I like about Lebanese Taverna is their clearly stated gluten free items. I really wanted to applaud them for that. It immediately made me say to myself, hey, I can bring my kids here.
Listen, I could keep showing you pictures of delectable dishes. Well, to be honest, I don't have that many – I was too busy eating! The life of a travel writer is complex – sometimes we don't know when to turn it on or turn it off. Pass me a bottle of wine and I forget who I am for a second. This is what I will say:
The wine selection was fantastic. I'm not a red fan but I enjoyed a glass of it with my meal, although I ate chicken and fish. (How unclassy of me!)
Go with a group of people – preferably 4 or more adults so you can really enjoy a lot of what the restaurant has to offer in terms of dishes.
Don't gorge on the warm pita. Yes, it's almost irresistible, paired with the creamy hummus or olive oil and Zaatar spice, but you can do it. Just walk away or have a sip of wine.
Be sure to order an appetizer sampler. I think this is the best way to gradually immerse yourself in the cuisine.
Leave room for dessert, especially if you're a fan of pistachios. Personally, they're a favorite of mine and unfortunately, I don't get to see as much of it as I'd like outside of New York.
Share your fish!
Although Lebanese Taverna is a chain of restaurants, I think they do a good job of maintaining that singular restaurant feel. Have you had Lebanese food before? What's your favorite dish?