This Finding Dory movie review is in honor of all people living with a disability.
Have you been waiting quietly for a follow-up to Finding Nemo, wondering what's the story behind Dory?
Well, after 13 years now's the time to grab the tissues and get to the theater.
Yes, I said it. You may need a tissue either from laughing or crying. The film does a great job (better than Nemo in my opinion) of carrying the audience through various emotions as we learn the story behind Dory.
"Just keep swimming"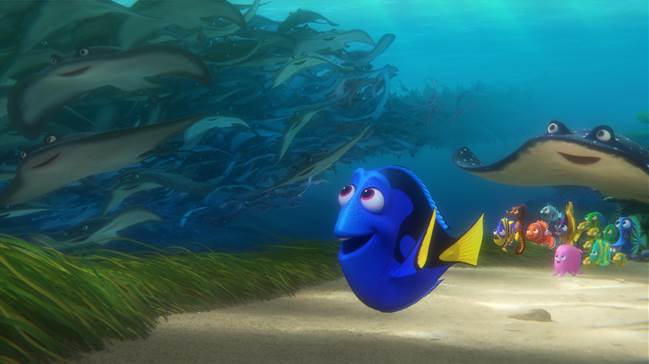 Remember Dory's song "Just keep swimming. Just keep swimming. Just keep swimming?" Now we know the story behind it. It's what her parents taught her when she was a little fish struggling with her short term memory loss.
More than being catchy and cute, it's an illustration of how parents raising a child with a disability use creative tools to equip their children for the world.
As a mom of a child with autism I get this.
But perhaps parents of typically developing children won't. If you've watched the movie, what were your thoughts?
Okay, I'm all over the place with this Finding Dory review so let's get some proper backstory.
Finding Dory Synopsis
Our favorite blue tang fish Dory (voice of Ellen DeGeneres), is living happily in The Reef with Nemo (voice of Hayden Rolence) and Marlin (voice of Albert Brooks). Dory suddenly remembers that she has a family out in the ocean when Marlin says something to spark her memory.
She realizes that they may be looking for her.
Much to Marlin's chagrin (and PTSD), the trio take off on a life-changing adventure across the ocean to California's prestigious Marine Life Institute, a rehabilitation center and aquarium.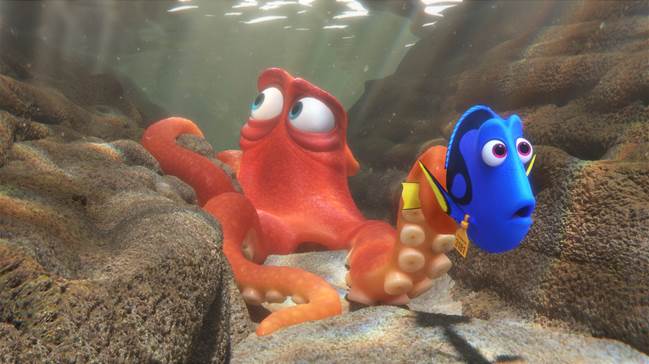 Welcomed by the voice of Sigourney Weaver, in an effort to find her mom and dad, Dory enlists the help of three of the MLI's most intriguing residents: Hank, a cantankerous octopus who frequently gives employees the slip; Bailey, a beluga whale who is convinced his echolocation skills are on the fritz: and Destiny, a nearsighted whale shark who Dory knew when she was little.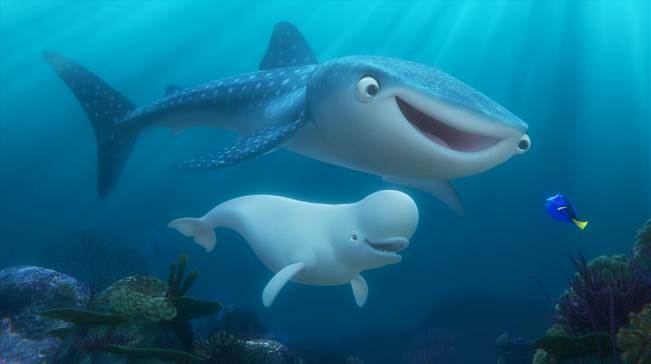 Deftly navigating the dark, complex inner workings of the MLI (a parallel to life), Dory and her friends discover the magic within their flaws, friendships and family.
Learning about Dory's past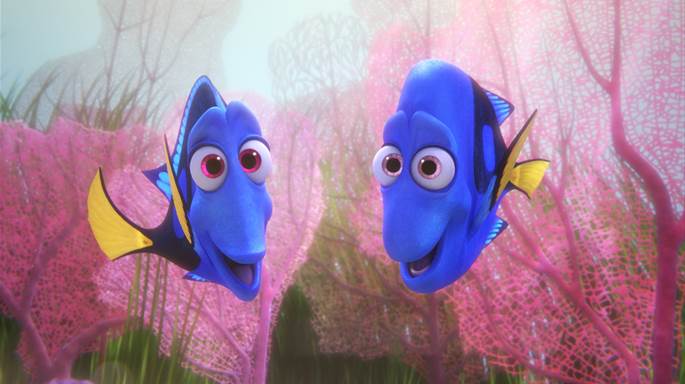 Through well-timed flashbacks we learn about Dory's childhood and how she got lost years ago. A song, a phrase, a familiar place intermittently jog Dory's memories to lead her back to her beginnings.
We learn that a happy-go-lucky younger version of Dory is struggling with short term memory loss. Her parents spend much of their time teaching her little tricks to manage it.
This is where we also learn why she says "Hi my name is Dory. I suffer from short-term memory loss" when we first meet her in the Finding Nemo film.
The movie has an ensemble of colourful characters that help drive the story line and add to the nonstop action of the film.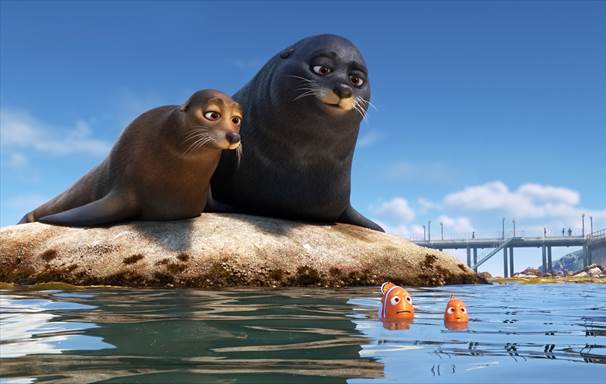 At every point where you feel there's a small triumph – whether it be Dory finding the marine life station; or Marlin and Nemo getting help from a crazy cross-eyed bird named Becky; or Dory finding her parents' empty house; or the trio being reunited; or Dory eventually finding her parents – there is a twist and a turn.
You can never settle into the temporary win because somehow a curveball gets thrown into the story. It's an ongoing resolution that will keep you laughing and asking" what's next?"
On the personal side
My 12 year old son was engrossed in the film, laughing and enjoying it just as much as he did when he was a baby watching Finding Nemo. (Gratefully the Nemo wall decals in he and his brother's blue bathroom are still relevant.)
On the other end, my 8 year old who has autism sat well throughout most of the movie. The characters were familiar to him because he also watched the Nemo DVD a dozen times.
He smiled when the movie started, staying fairly engaged. The action in the film wasn't overwhelming where it triggered any adverse reactions, a common struggle for autism parents who take their children to movies. He enjoyed the consistent audience laughter, knowing that he could be just as loud.
The lesson for us all
Overall, Finding Dory is a funny and heartwarming animated film. Ellen DeGeneres is endearing as Dory and throughout the movie you just want her to overcome her memory loss and win.
Finding Dory is as much a story about Dory finding her parents as it is about her parents finding her and Dory finding herself.
I believe the film speaks to a greater message of managing disabilities: how parents can be creative to equip their children, how society can be compassionate enough to lend support, and how those who struggle can push ahead and just keep swimming.
I was a guest of Allied-THA to watch an advance screening and write a Finding Dory movie review. All images and clips are courtesy of Disney/Pixar. All opinions are my own.
Rating: PG
Run time: 85 mins