Last Wednesday I had the pleasure of seeing FELA!, the Tony award-winning hit Broadway show produced by Jay Z, Will and Jada Pinkett Smith along with Ruth and Stephen Hendel. The production launched the American leg of its international tour in D.C. on September 13th at the Sidney Harman Hall and will continue its run there until October 9th.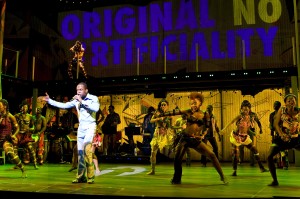 The show intoxicates and energizes the audience with its music, dance, and story-telling. As soon as we walked into Sidney Harman Hall for the performance, we could hear what sounded like a party down the hall. And once we walked into the theatre, our thoughts were confirmed: there was a party going on, right on-stage, creating an even more than usual voyeuristic feel to what you would expect in a theatre environment. The intimate space amplifies that feeling. I think the use of multimedia components in the production enhance the show's value and gives it more mass appeal, especially for those musical numbers where the words and accents are hard to understand.
A word to the wise: be prepared to be transported back in time to The Shrine nightclub in Lagos, Nigeria, mesmerized by musician Fela Kuti. You will be drawn in by his charismatic but tragically-flawed personality, and find yourself willing to cooperate in his finger-snapping, pelvis-gyrating escapade.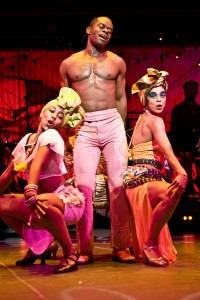 Sar Ngaujah who plays Fela owns the role and honestly, I had to keep reminding myself that he wasn't the man whom he was portraying. Loud, talented, and undeniably funny, he keeps you engaged in the story. His accompanying dancers' energy is consistent and non-stop, giving testimony to their athleticism. If you've ever taken an African dance class, watching the dance numbers will not only make you reminisce about those heydays but also invoke you to want to get up and revisit that time. Luckily, Fela gives you that opportunity when he asks for whole-audience participation to stand up and learn "clockwork". I won't spoil it for you with exactly what that entails – just know that it was funny watching little old white women mimicking the gyrations of young vibrant African dancers.
Besides Fela, one of my other favorites in the show was the character Ismael who also commands your attention with his griot-style chants. His alternate universe James Brown rendition is hilarious and entertaining. However, the performer who sealed the deal for me was Melanie Marshall who plays Funmilayo, Fela's mother. Her vocal range is ridiculous and when she sings, it sends chills down your spine. The last number that she sings, "Rain", had audience members burrowing their brows, tucking their necks and saying "hmph" as she hit operatic notes accompanied by an occasional but well-placed vibrato. Her performance made up my mind to purchase the original cast recording.
If you don't know about Fela Anikulapo-Kuti, the play may motivate you to learn more about this revolutionary Nigerian figure – both his history and his demise. Overall, FELA! is a well-balanced musical that has a deeper ideological message. Although the snotty New Yorker in me believes Broadway is where the show belongs, I'm glad that the production is traveling so that the story of Fela can be shared more generously with audiences around the world.
[Disclaimer: I received tickets to see FELA! from the Shakespeare Theatre Company. This post is solely my opinion and not influenced by any other parties (not even my husband). ]