Last week we went to check out Disney on Ice at First Mariner Arena in Baltimore, courtesy of Feld Entertainment. Every year I make a mental note to catch a Disney on Ice show and somehow, the season always seems to slip away. It doesn't help that getting my house of boys to get excited is no easy task. My eight-year old hit me with the "aw, why mommy?" as soon as we left the house. However, once the lights went down and the show started, his mood changed.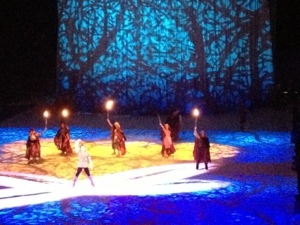 The Baltimore Disney on Ice performance begins with a Grease-inspired number featuring a group of male and female figure-skaters that worked quickly to get the audience hyped, encouraging participation with dance moves. Shortly thereafter, Disney favorites (and old-timers) Mickey, Minnie, Donald, and Goofy come out to work the crowd. Little kids were screaming at the top of their lungs at 8:30 pm, on a school night, excited to see the quad. My oldest later confided that this was the only part of the show he didn't like. He felt it was better geared towards little kids like his baby brother. (Gotta love the child critic!)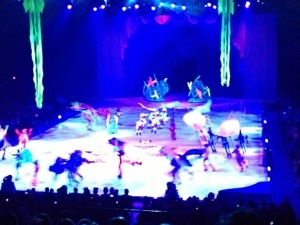 I have to admit that I enjoyed the various Disney stories re-enacted on ice in condensed formats just as much as the high-pitched little girls sitting behind me. The magic started off with The Little Mermaid act. Colorful costumes, quick and flawless set changes, floating props, fire on ice, action, and of course, the underlying love story are elegantly executed by the Disney performers.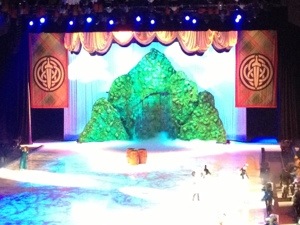 The show is engaging for kids of all ages and the acts are especially meaningful if you're familiar with the stories of Tangled, Beauty and the Beast, and Brave.
Not all Disney on Ice show times have the same acts – it varies by city. Some will get to see the The Princess and the Frog while others will get to see the format we saw.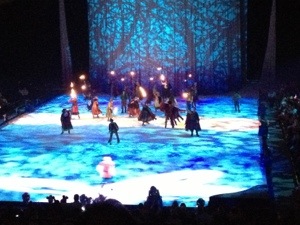 Regardless which show you see, don't be surprised if you wake up the next morning singing a fairy tale favorite while gliding across your kitchen floor.