On my first full day in Spain, I woke up early to go on a cultural journey with Devour Barcelona Food Tours. Even under the fog of jet lag, I was excited and curious.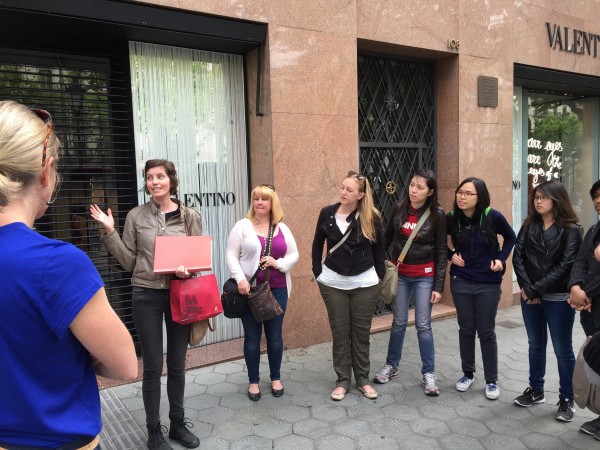 In my experience, food tours are a great opportunity to:
Meet other travelers
Meet the locals
Combine sightseeing with food
Visit small spots that may not be on anyone's "Top 10" or 10 Best" list but are equally as awesome (if not better)
Get the inside track on a place's history and culture
At the end of the day, Barcelona Food Tours was consistent with my past experiences.
Barcelona's Gràcia Neighborhood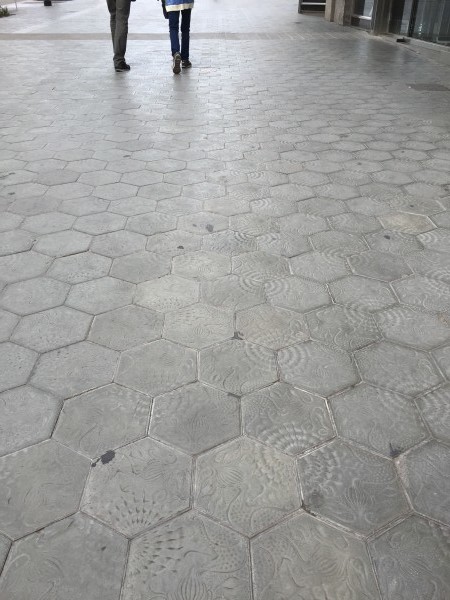 The 10 a.m. tour began on Passeig de Gracia, a main shopping thoroughfare, and equivalent to Manhattan's 5th Avenue. With Gaudi-designed tiles under our feet, the tour guide, an expat from San Francisco, provided context to where we were standing and gave us the run down of where we'd be touring for the day.
If you're not an early riser, don't worry. Let the expectation of cava at 10am and good food be your motivation.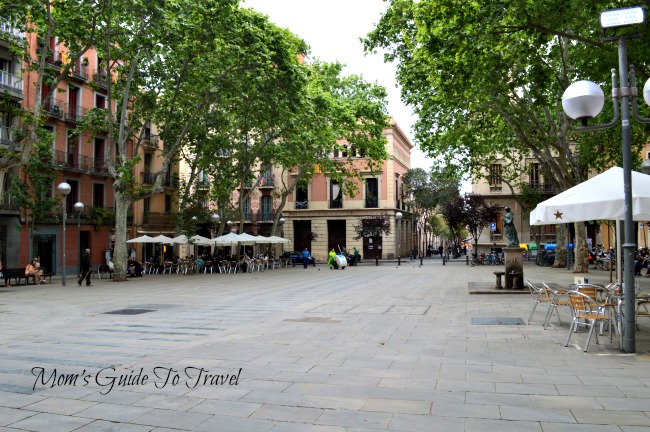 The quiet and intimate Gràcia neighborhood is just a stone's throw from the more bustling areas of Barcelona.
For centuries, this relaxed neighborhood used to sit on the outskirts of the city as an independent village. In 1897 it was annexed to Barcelona, expanding the city's northern boundaries.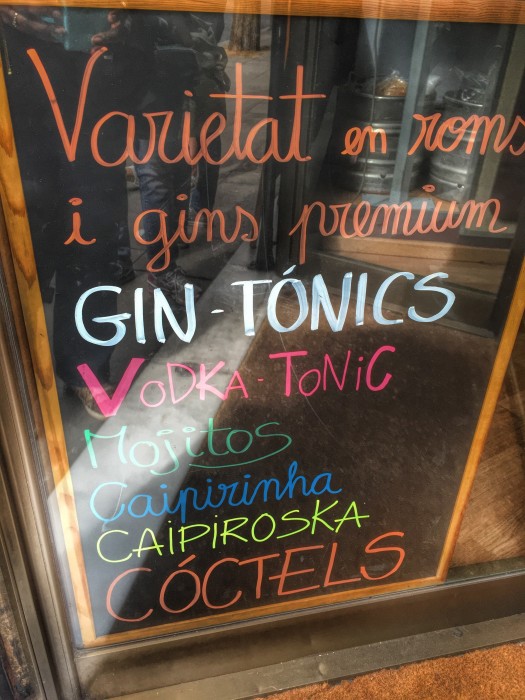 According to our guide, in the 1980s and 90s, it became a Gypsy hangout. Today it is popular for its small mom and pop shops, as well as its contribution to the gin and tonic revival.
First Stop on Our Tour
Name: Can Tosca
Address: Carrer del Torrent de l'Olla, 77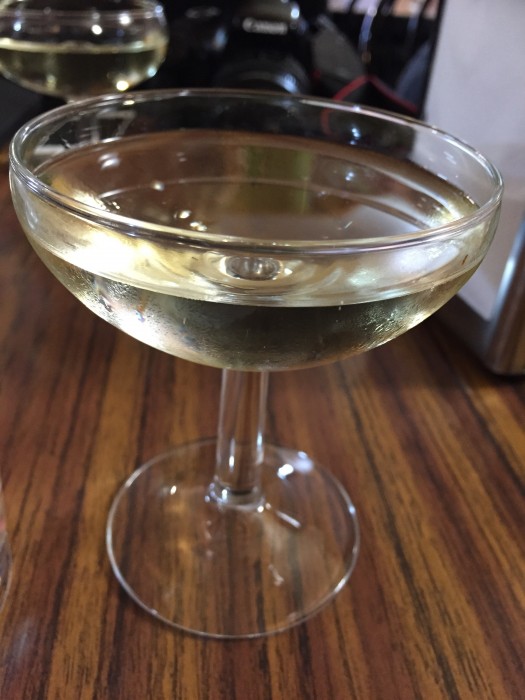 This small eatery is owned by sisters Inma and Rosa Tosca. The bar/restaurant has been in their family since 1961. The Tosca's hospitality started our stomachs (and expectations) off right with a glass of cava. Yes, it was only 10:30 am in Spain but my body recognized that it was 4:30am back home – perfectly acceptable time to drink!
At Can Tosca, we were introduced to pan e tomate (bread and tomato), a typical part of the Catalan morning. Fresh baguettes toasted and laced with fresh raw garlic then ripe Roma tomatoes were topped with either sausage or in my case a garlic and herb type of omelette.
Funny enough I'd just said to my girlfriend the previous day that I was craving an omelette and hoped I'd get one while in Barcelona – this restaurant over-delivered on that score.
Second stop on our Tour
Name: Mercat de l'Abaceria Central
Address: Travessera de Gràcia, 186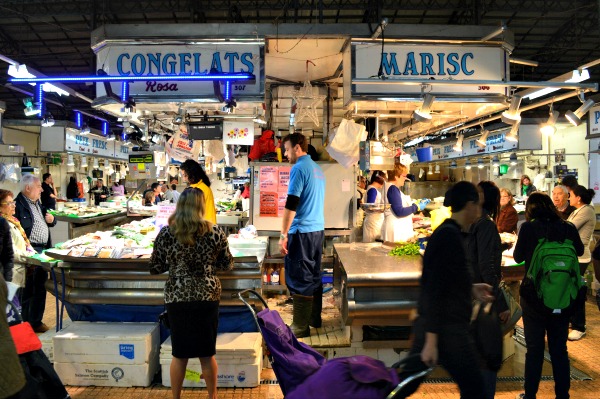 Our second stop brought us to Mercat de l'Abaceria Central, a small local food market void of tourists. According to the locals, the best days to visit any of these markets is on a Tuesday or Wednesday, when items are freshly stocked for the week ahead.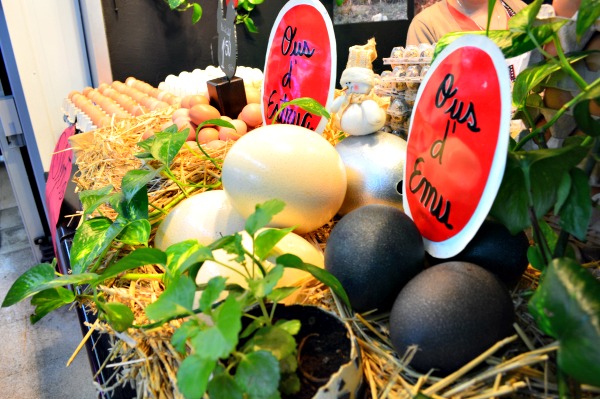 Most stands at l'Abaceria specialize in one main food whether it's olives, eggs, meats, cheese, pastry. You're almost guaranteed to get the best of the best. Unfortunately in America we opt for convenience.
But that's another discussion for another day.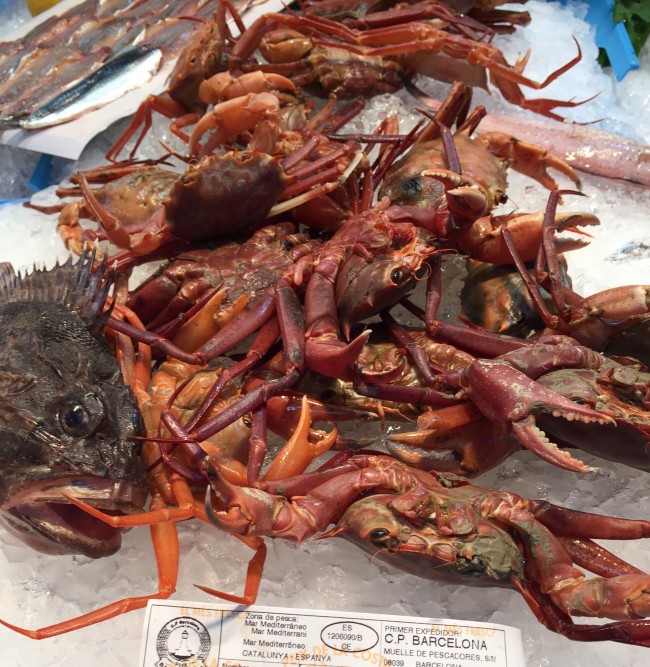 Local food markets are fun. You see all sorts of meats, fish, ingredients and dishes that you may not ordinarily see in supermarkets.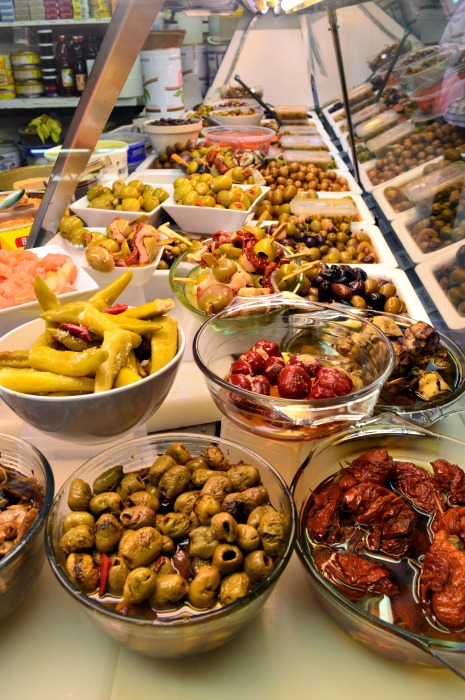 At the stand of Conserves Glória we eyed rows of Spanish olives. One of the exciting characteristics of a food tour is being exposed to food combinations you may not independently try.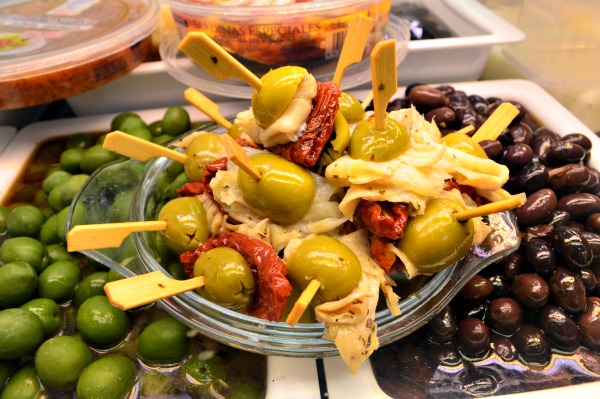 This olive and salt cod skewer is not something that Worldtravelmom would've reached for in a Barcelona buffet, however, I made a vow to try anything as long as it wasn't red meat or pork.
The skewer turned out to be a slightly salty and flavorful combination. It was a surprisingly refreshing amuse-bouche.
 Third Stop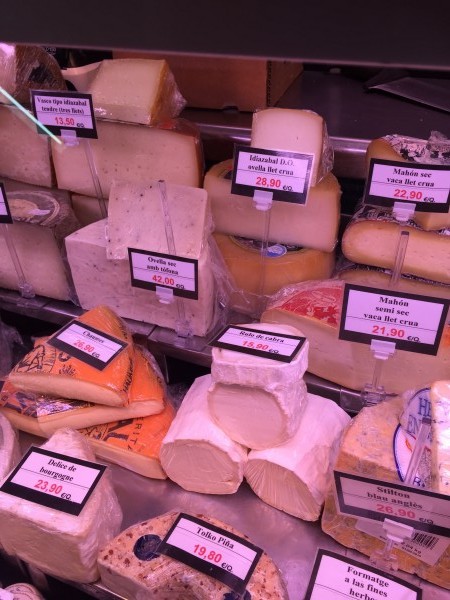 The second stand that we visited was La Trobada del Gourmet, a stand which specialized in and offered a selection of Spanish and Catalan cheeses. We sampled three of the cheeses there, including Urgelia topped with quince fruit, a balancing combination of salty and sweet.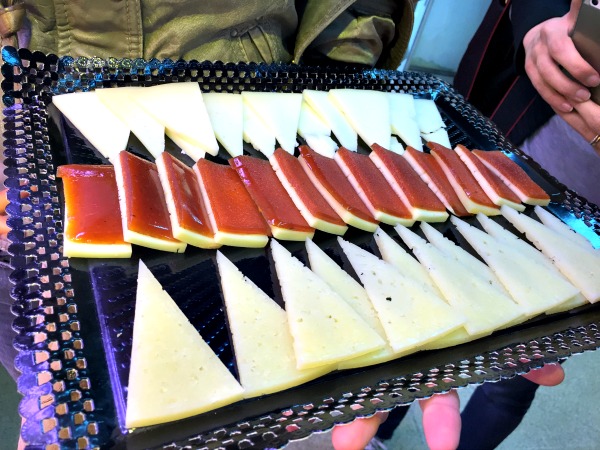 The smoked cheese, Idiazabal was probably my favorite with the drier Manxec coming in third place.
Fourth Stop on the tour
Name: Oli Sal
Address: Travessera de Gràcia, 170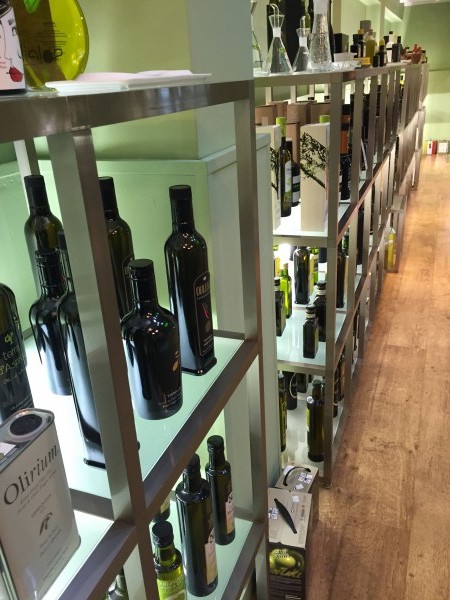 The fifth stop of our tour landed us at a boutique olive shop, complete with a back-of-the-house tasting room.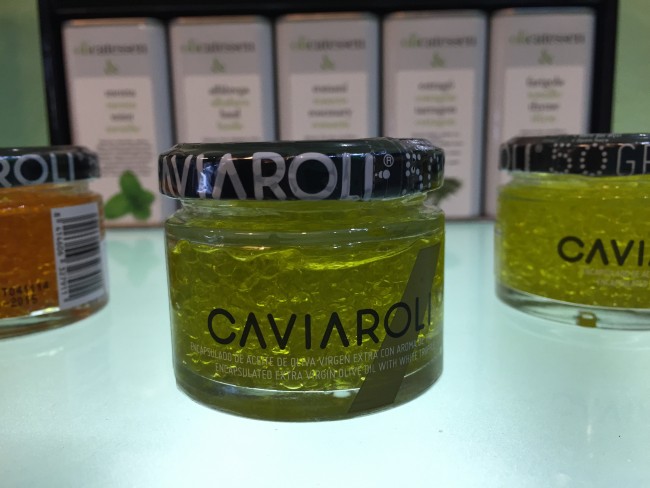 Spain is the largest olive oil producing country in the world, with Italy following in second and Greece in third.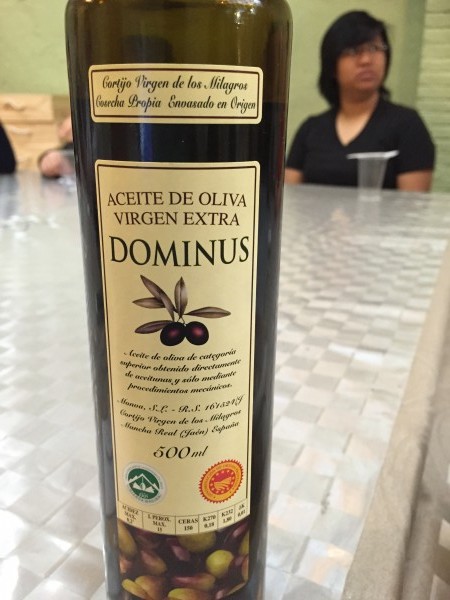 Much like a wine or coffee tasting, it's appropriate to make audible sucking noises in order to aerate the oil and get the flavors circulating through your mouth and nostrils. We novices chose to either dip our pinches of bread or sip the oils gingerly from our spoons.
You quickly learn that you know very little about quality extra virgin olive oil until you've gone to a proper tasting. Trust me when I say that along with various notes of spices and herbs, I could taste the soil in these oils.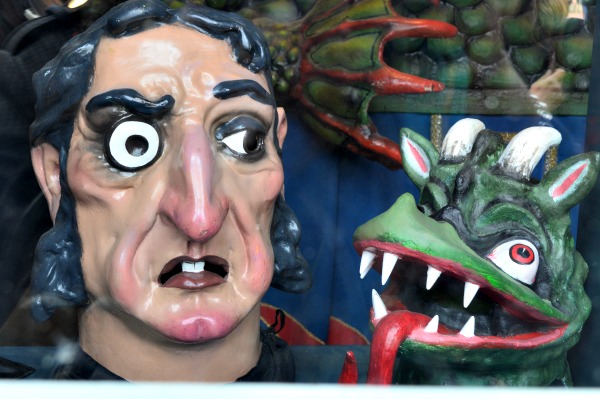 On the way to our next tasting, we stopped at Placa Rius i Taulet where we peered into a building that housed the costumes and characters of the neighborhood's annual festival.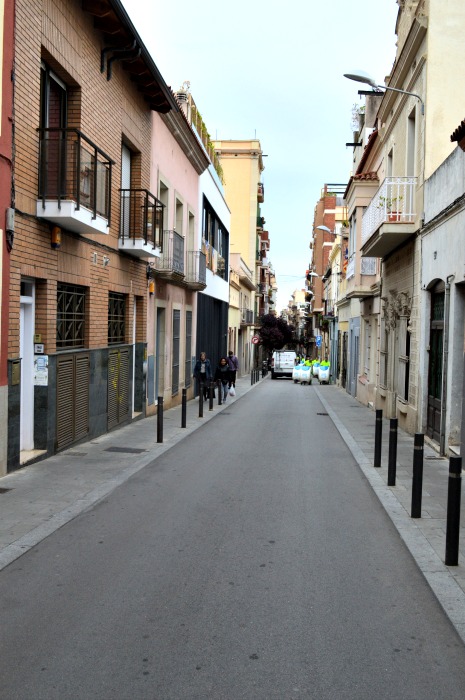 We continued to stroll through near-empty narrow streets unfit for trucks or parking. You won't find as many tourists in Gràcia, a detail that helps it maintain much of its village charm.
Fifth Stop on the tour
Name: l'Anxoveta
Address: Carrer de Sant Domenèc, 16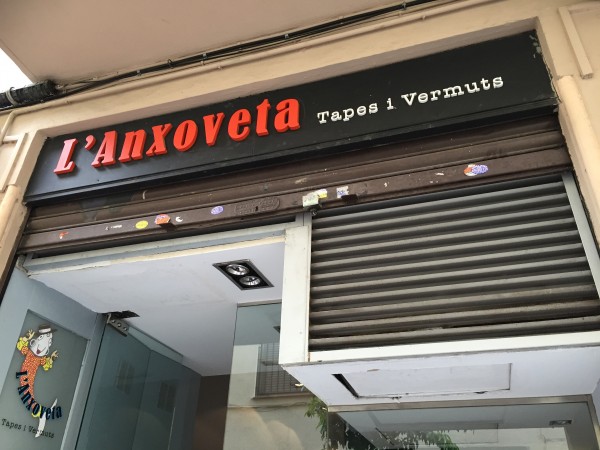 At l'Anxoveta we made our own pa amb tomàquet (bread and tomato) while enjoying a glass of Penedès wine.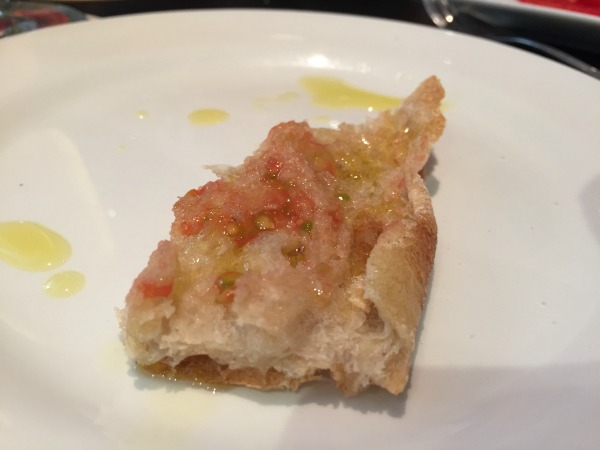 This appetizer was followed by a "bomba" (potato and ground beef croquette with brava sauce) for the red-meat eaters.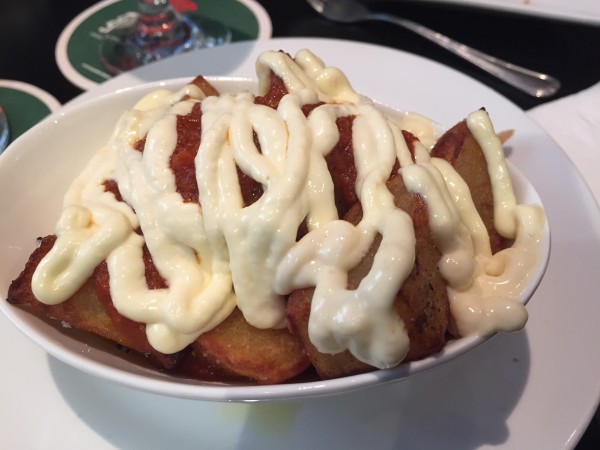 I enjoyed a healthy dish of potatas bravas which was spicy and filling.
The owner explained the origins of pa amb tomàquet to us in Catalòn as he sliced through crispy french bread, providing us with a demonstration before leaving us to our own devices. In between sips of beer and wine, we made our own tomato and bread with the understanding that it wouldn't taste quite the same upon duplicating at home.
Sixth stop on the Devour Barcelona tour
Name: Pastisseria Principe
Address: Carrer de les Guilleries, 10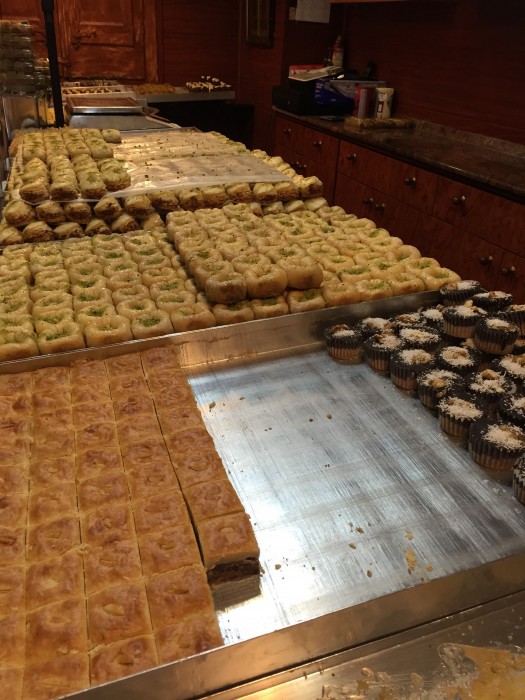 Not far from Placa del Sol sits Pastisseria Principe, where you will find an array of sweet handmade Syrian pastry. This was one of several stops where I appreciated the benefit of being on a food tour. Our guide shared the story behind the owner, a Syrian gentleman who had traveled to Spain in the early 80's, fell in love, married within two months of his arrival, and shortly thereafter opened a sweets shop.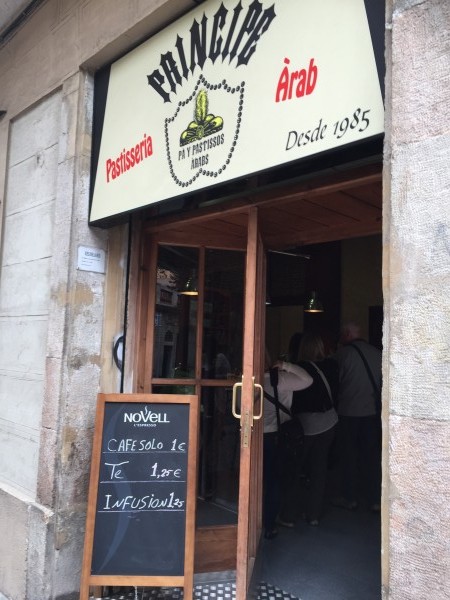 The shop is representative of the diversity that you'll find in Barcelona.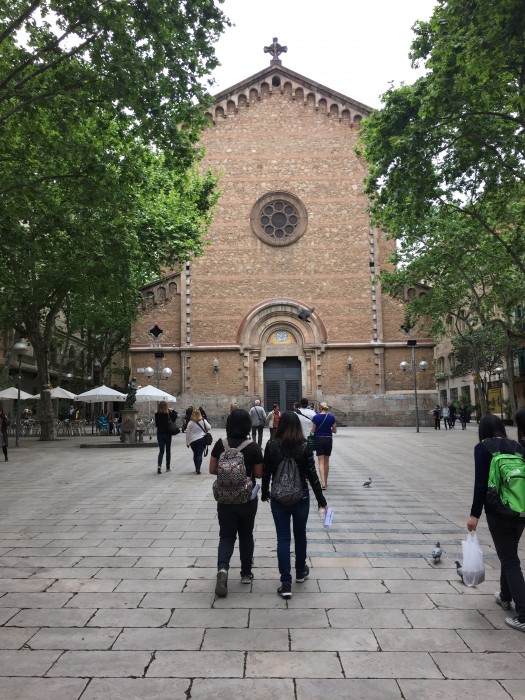 Five minutes away, we walked through yet another one of Gràcia's small plazas, Placa Virreina. Tranquil and still, it felt as if the few dozens of people sitting down for a cafè were all on vacation or a lazy lunch break.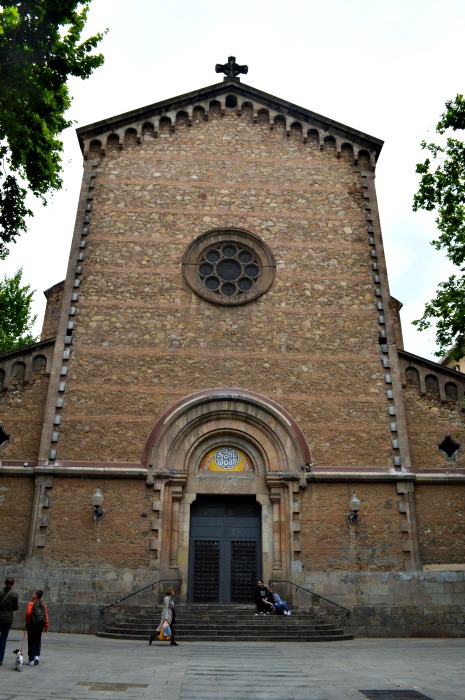 The church of Sant Joan anchors the Placa Virreina with is weathered face and its black iron doors.
Seventh stop on the tour
Name: Bodega Ca'l Pep
Address: Carrer Verdi, 141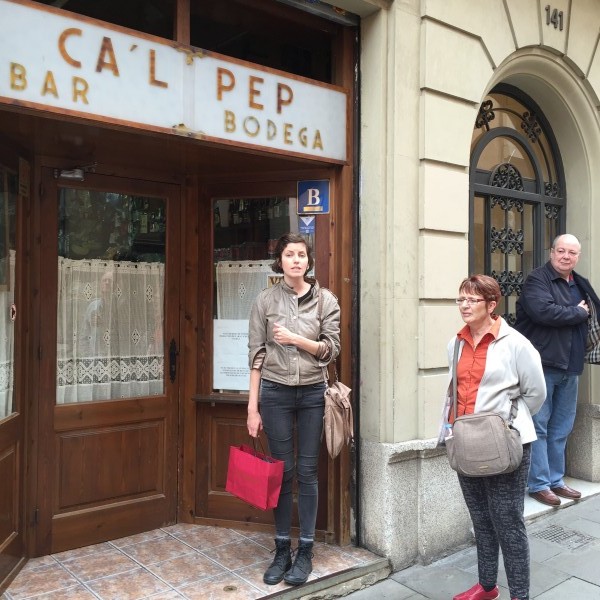 Looking much like what we'd call a dive bar in the city, this eatery was rustic and simple. The barrels where the local Perruchi red vermouth are aged sat against the walls, feet away from our wooden tables.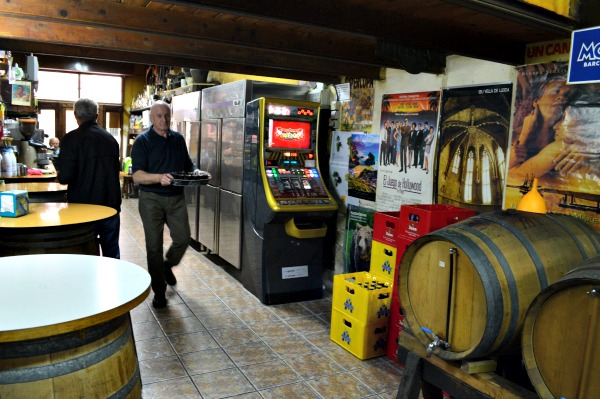 This vermouth isn't what we Americans associate with classic vermouth which we use to make Martinis.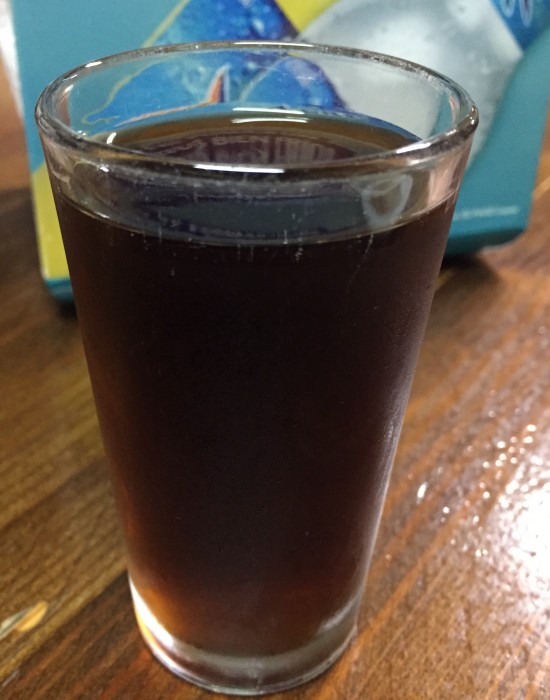 This vermouth was more like a wine. Fuet and pickled anchovies accompanied our vermouth, drawing up images for me of older Spanish men sitting table-side, smoking in a plaza, talking loudly of politics and war.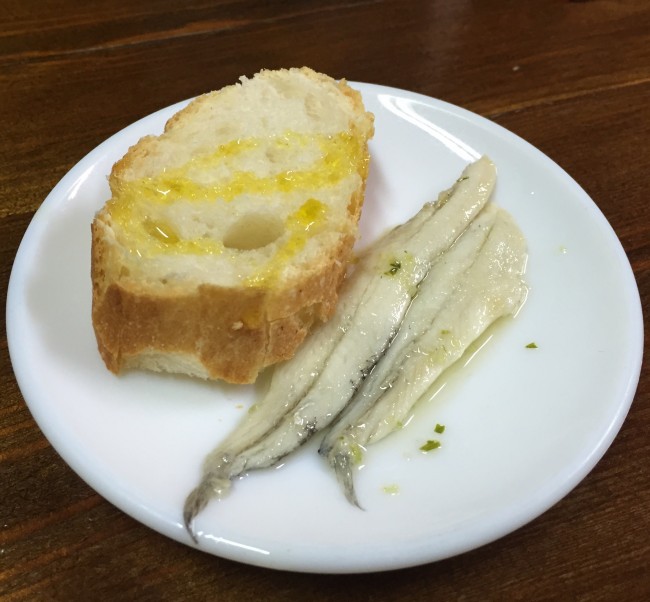 Eighth stop – home stretch
Name: La Botigueta del Bon Menjar
Address: Carrer de Santa Agata, 18-20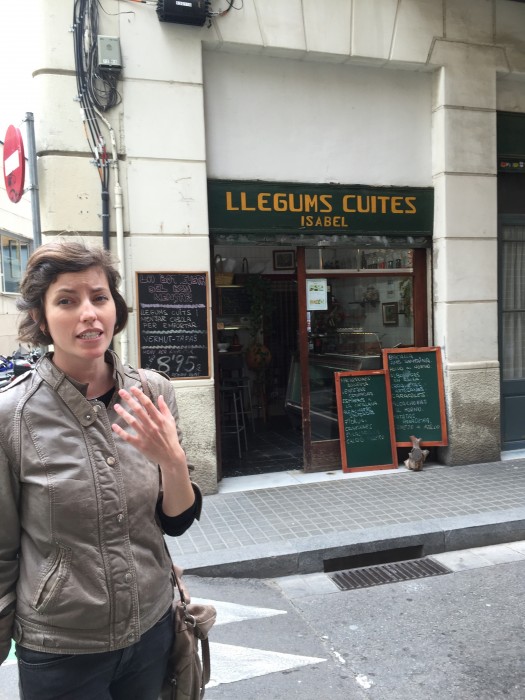 The primary sign above the door reads Llegums Cuites Isabel but the name of this shop is La Botigueta del Bon Menjar.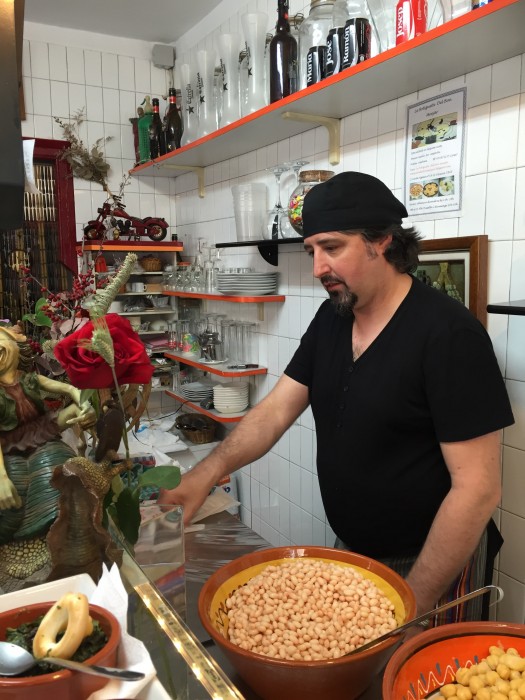 La Botigueta specializes in bean-based dishes and was designed for women who wanted to grab a quick homemade meal when they were too busy or not in the mood to cook for the evening.
First we tried a tasty spoonful of escalivada and romesco "pintxo". The romesco sauce is a fantastic mix of ground hazelnuts, almonds, pepper, vinegar, garlic, and olive oil coupled with eggplant, roasted red pepper and an olive for garnishment.
I don't normally opt for savory dishes with ground nuts in them but escalivada was superb. It was packed with protein and rich flavors.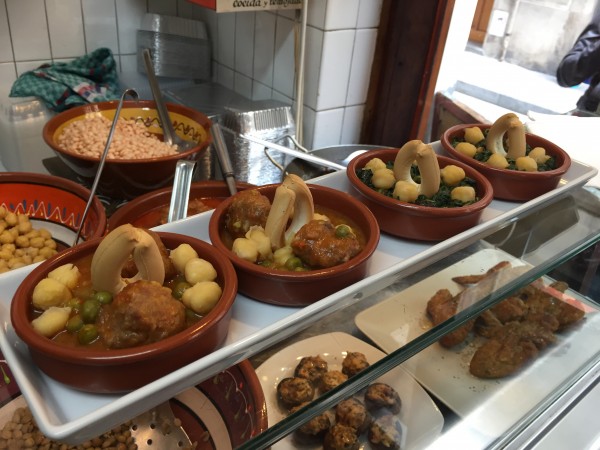 For our second dish, while the majority of the group devoured small plates of homemade meatballs in a bean and pea gravy, I enjoyed a delightfully light spinach dish with chickpeas.
9th and Final Stop (whew!)
Name: Pastisseria Ideal
Address: Carrer Gran de Gràcia, 207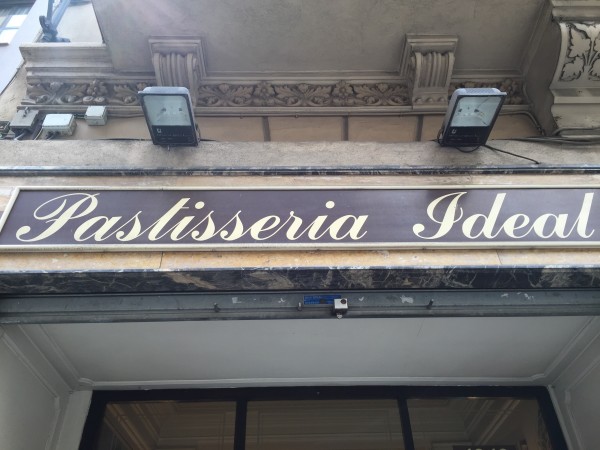 If I wore buttoned jeans on this tour, they would have been undone by now. Just in time, we wobbled our way into Pastisseria Ideal for a coffee and our final treat, a mini cremat. The pastry was creamy and sweet, reminiscent of dense vanilla pudding on angel food cake.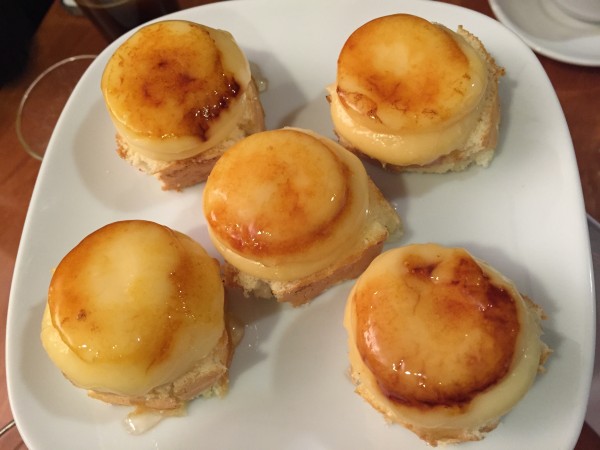 This last stop was literally the icing on an amazing food tour that provided a tasty glimpse into Catalan cuisine.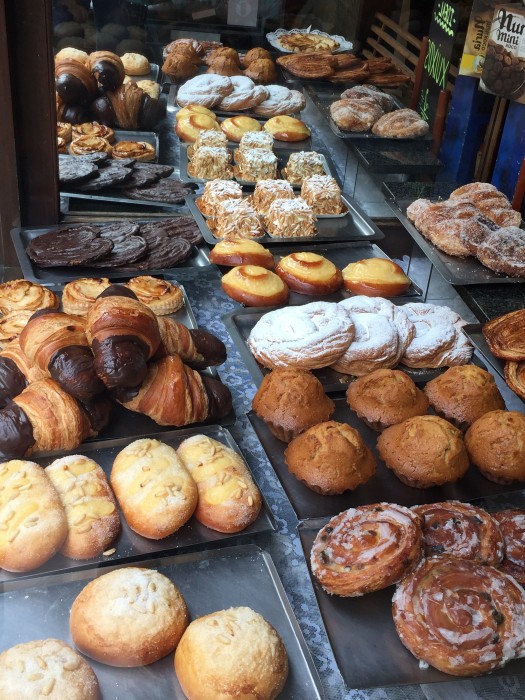 If you'd like a gentle introduction to Catalan cuisine, I'd recommend booking a spot on Devour Barcelona Food Tour. At €65, it's a great value for the money. And as you can see, it can easily be your breakfast, lunch, and dinner for the day.
Special Note for Families: guides will try to make an extra stop to a sweets shop for the kids' enjoyment. In addition, children under 12 are half-priced.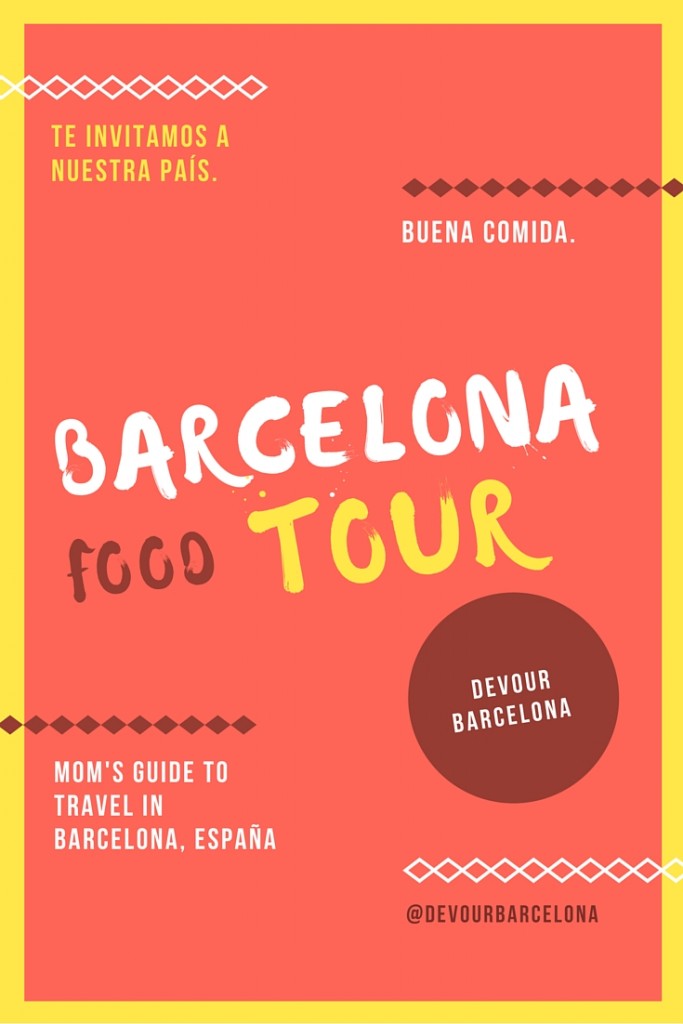 Thanks to Barcelona Food Tours for inviting me on this journey into the foods and culture of the Catalan region.