I never get enough of watching Cirque du Soleil shows, especially productions like Cirque du Soleil Dralion. If you appreciate Asian culture, the circus arts, live music, bold sets, and the color red, no matter how many Cirque shows you've been to, you'll fall in love with Dralion. Since premiering in 1999, Cirque du Soleil Dralion has entertained more than 8 million people worldwide.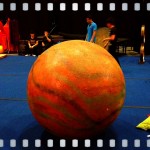 The show is currently touring North America and at the time of this post, playing in Baltimore in an arena setting, a departure from the traditional blue and yellow Big Top. As much as I enjoy watching Cirque shows no matter where they're performed, there's just something special, magical, about going to the show under the chapiteau (that's French for one big tent – just in case you didn't know). The experience is different. It almost makes me feel like a kid again, going to the spectacle of the circus.
With the re-staging from Big Top to arena setting comes artistic and logistical changes. Dralion publicist, Julie Desmarais, notes that the production team works hard to maintain that same intimacy under the arena. Artistic Director Sean McKeown is tasked with the responsibility to ensure that Dralion maintains the Cirque production standards.
Dralion is a balanced mix of "ancient Chinese circus traditions and the avant-garde style of Cirque du Soleil", a seamless marriage of Eastern and Western circus arts. From crew to cast, there are over 18 nationalities represented. Dralion's fifty four performers come from 16 different countries with a strong contingency of them coming from the Xiandong province near Beijing. Ms. Desmaris added that many of the Chinese performers did gymnastics before getting into the circus arts.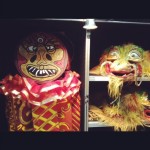 The performers, across the board, were engaging and entertaining. Acts like the Trampoline, Crossed Wheel, and Aerial Pas de Deux will leave you mesmerized. Watching five performers jump from the set wall onto two over-sized trampolines in a series of flips and somersaults, will mold your mouth into a perpetual "wow." They bounce like feathers and stick to the wall like Spiderman. And just when you yearn for some type of love story, the enchantingly romantic act of the Aerial Pas de Deux answers the call.
I really enjoyed the Cirque du Soleil Dralion performance because I've always been a fan of Asian culture. When I asked Julie Desmaris what was the best part of her very fun job, her response was traveling around the world, discovering and meeting different people from different cultures. That's what I'm talking about – my kind of show, my kind of job.