It's been a couple of weeks since my last post and it's mainly because I've been going through the vacation travel planning process. One thing I've learned about myself during this process is that when I'm under heightened levels of stress, I retreat. I am super focused, I'm quiet, I just don't talk. I don't want to have a conversation. I don't want to say anything about anything until I've achieved the goal that I want to achieve and I am out of that stressful situation. I'm thinking to myself, why didn't I get my child that passport?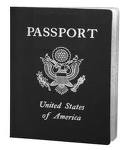 Planning my trip to the Cayman Islands has been more stressful for me than I thought it would be. My stress started with purchasing tickets in the time frame that I originally intended and ended with getting my kids their passports.
I guess I take having a passport for granted. And I'm really going to date myself here by saying this: traveling to the Caribbean used to be carefree, passport-free, more specifically. When we were thinking about this trip back in early May it didn't click, "Oh, let me get my kids their passports" because 1.) my husband and I have passports and 2.) my oldest son had a passport (though I forgot it expired back in December). It used to be that when you traveled to the Caribbean you could just show identification like a birth certificate and poof! you were on your way. We don't live in that world anymore. But that's what I remember and unfortunately, the nostalgia of it all was still in my head.
Getting back to the drama….
So, when I purchased my tickets, as I'm on the phone with the travel agent giving her my information, she says, "Ok, now I need your passport numbers." I was like, "Oh shush! Okay…I don't have passport numbers for my kids." At that moment, I said to myself, if I had realized that I didn't have their passports and the appropriate amount of time to get them processed stress-free, I probably would've never booked the tickets. Mind you, we were 19 days out from our trip and the expedited process time (via mail) was 2-3 weeks! We were right in the middle of that "funny" place of do you take the gamble or not.
I wasn't willing to gamble on our vacation thus, the mad scramble for pics and a regional agency appointment began. The thing about the process that probably annoyed me the most was making the appointment with the agency. I had to wait until I was within the 14 day window to make an appointment – so this meant that I had to wait an extra 5 days until I could call and get an appointment! When I did call, the earliest appointment I could get was 4 days before my trip!! [yes, double exclamation point]
I literally could feel the grey hairs sprouting.
Although we're lucky enough to have a regional passport agency just an hour away from our home, lugging the kids into the city through early morning rush hour traffic and forcing my husband to take a day off from work is not my pre-paradise cup of tea. It's more like an extra serving of headache sauce.
The way you have to approach traveling with your kids when you're in a really stressful situation or when the circumstances are non-optimal is that you have to take it step by step. "We're going to cross this part of the bridge first, we're going to cross that part of the bridge next, and we're just going to check off each part as we cross it." Whenever I have huge obstacles before me that's what I do. Alright let me do point A first, let me do point B second.
[An aside: as I'm audio-recording this post I'm actually sitting in traffic on my way to the passport agency to pick up these passports which should be ready by 2 o'clock. And I don't want to be in traffic, because traffic makes you crazy. So even now I don't even want to be talking about the situation. I wanted to talk about it in retrospect but since it was on my mind, still fresh, I figured while I'm in the moment I might as well go ahead because this is what families go through, and what families need to hear… the pain of the situation, the pain of "oh my gosh, i don't have this, I don't have that, I only have this amount of time, what am I going to do with the kids, blah blah blah blah……"]
So there you have it. That's where I'm at, that's what I'm doing – I can't wait to write my post where I can say, "Hey, I got everything, everything's cool now, we're just packing, I'm in a good place" because right now I'm not in a good place. My heart is higher in my chest than I'd like it to be, my throat's a little dry, and I'm more stressed than usual when I'm traveling or preparing for travel.
Let my pain be a lesson for you. It doesn't matter if you don't think you're going out of the country this year – just go ahead and get your child a passport. You never know when you might want to take a spur of the moment adventure. If you're a crazy woman like me and you enjoy spontaneous trips, or you see some deal that you just can't pass up – if you don't have that passport, guess what, no flying by the seat of your pants for you!
Bite the bullet and get your child's travel documents in order – no matter how young they are, no matter when you think you're going to travel – because you just never know.