I gotta be honest for a second here. On my last cruise, I thought briefly about where one would hide if they wanted to avoid the safety drill. Then I thought to myself why would anyone want to do that – It's a mere 15 minutes that can save your life in a catastrophe. Granted, cruise accidents are few and far between, but Lord knows you want to be prepared if your trip ends up being in that small percentage. The recent Costa cruise accident is a testimony to the importance of the cruise ship drill.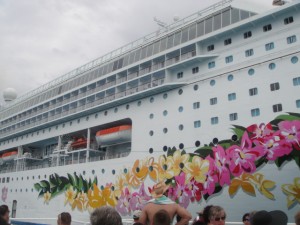 When we traveled on Princess Cruises for my wedding cruise six years ago, I was impressed by the efficiency of the process. The crew was well-organized, friendly, humorous, and thorough. I found myself paying closer attention on this drill than on any other because I had my young son with me. We also had other children and elders in our wedding party. Having cruised with four different brands, each cruise line ran a thorough drill and I felt assured that I knew what to do if there were an emergency.
No one likes to think about catastrophes when they go on vacation but you still need a contingency plan. I can't help but think about the two dozen or so passengers that are still missing from Costa, and it makes me say to myself, "This is why it's important to fill out those emergency forms as thoroughly as possible." The drills and the emergency forms are parts of your contingency plan and although they may seem like temporary inconveniences to your fun, they are vital and necessary. Just think about it, if you skipped the drill, would you know where the life boats and life jackets were?
What do you think about cruise ship drills? Do you think cruise lines do a good job of ensuring passengers know what to do in case of an emergency? We'd love to hear your thoughts.