Remember the fanny pack? Men finally had their own version of a purse – a man purse that is. Although it wasn't the most fashionable of accessories, it made things easier for men travelers and women who wanted to leave their purses at home. This once functional but very unfashionable accessory led the charge for purse-free travel, whether people were traveling to the store or through an airport. Unfortunately, the fanny pack isn't dead – you can still find some of those original bulky atrocities still floating around. Thankfully, the ScotteVest travel vest was created to save us from our devices.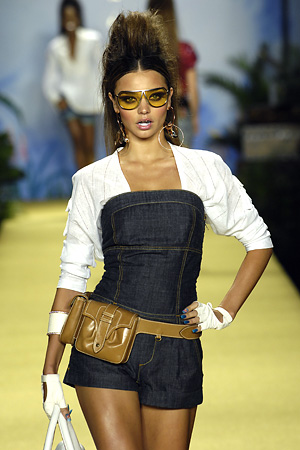 The limitations of the fanny pack extend beyond fashion nightmare. In today's mobile world, it's design is less functional. The ScotteVest travel vest takes care of the travelers need to carry a range of items, from multiple mobile devices to documents to water to tablets, and more. The vest is designed to distribute the weight of the items evenly across the body.
Last month, I attended the Travel and Adventure show in D.C. and interviewed ScotteVest owner and inventor, Scott Jordan. We talked shop about everything from why he got into the travel apparel business to his stint on Shark Tank. Check out this video of the Travel Channel's Andrew Zimmern trying on his new vest and watching Scott demonstrate its functionality.
I appreciate his energy and passion for his business. As a mom who occasionally travels solo with kids, one who can get obsessed with luggage and packing techniques, I love what he's invented.
The ScotteVest is this pack-rat's dream.
I tried one on for size and went the day purse-free. Now let's be clear – I love my pocketbooks. I've carried one just about every day of my life for the past 12+ years. Not carrying one for the day had me thinking that I had lost something. While I'm local, they don't bother me. However, when I'm on the go, traveling on vacation with the kids, I can do without the extra hassle of the purse. And the ScotteVest travel vest is going to help me do just that.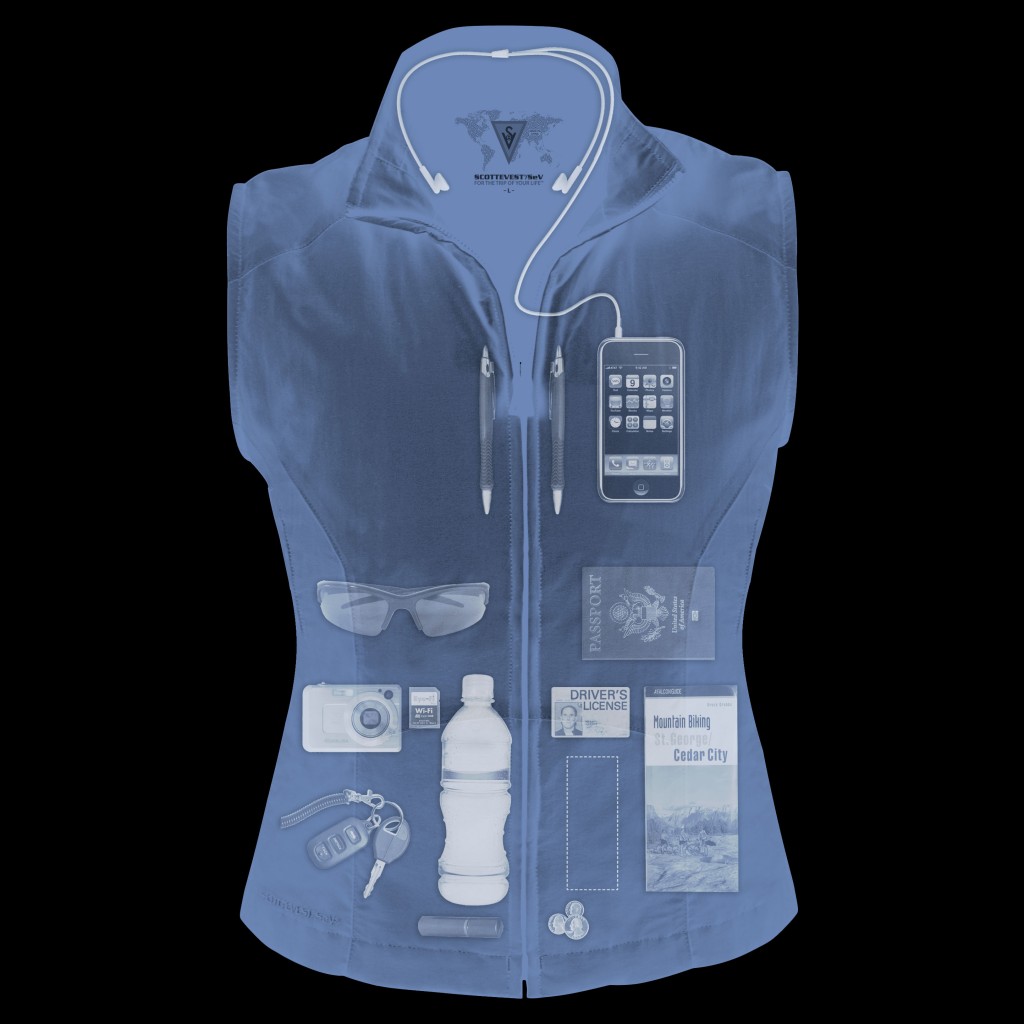 I was surprised by how much I could fit into this vest. I wish I had ordered a larger size so that I could also carry my iPad in it (I highly recommend you order large and above). I made the mistake of ordering my exact size, therefore, once I started putting all my stuff into the strategically designed patented pockets, the vest became more snug and my items didn't sit as flush in the pockets as they should have.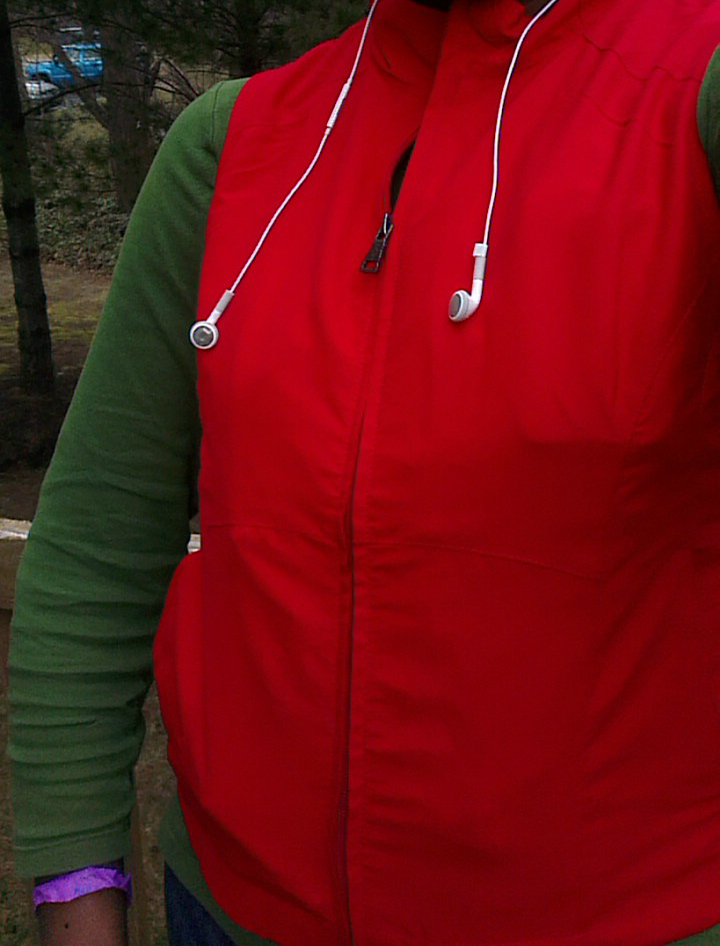 I neglected to remember that part of our interview where Scott told me that each size vest has different sized pockets. With standard fashion industry pocket design, the pocket sizes are generally the same. Scott mentioned, "there's no real consideration as to what people are carrying." Good point.
The features I love about my travel vest are:
It has 17 pockets
the Princess seams on it (although I won't be eating any bagels wearing it)
see-through pocket for my iPhone or iPod which I can also control through the pocket
my extendable key holder (so cute!)
lipstick pocket (always digging for that in my purse)
the bud pocket and collar connect area to route my iPhone buds and hold them in place
The vest is a no-brainer for men. I'm so happy that my husband wants his own vest because now he can carry his own stuff and not look at my pocketbook as HIS pocketbook. But it's also a great travel item for us women (moms especially), whether it's too the grocery store or to the airport. Now my carry-on luggage has more room for important items like an extra pair of shoes because my sunglasses, my passport, my keys, my lipstick, my tablet, my phone, my digital camera, and whatever else I can sneak in those pockets, are housed in my vest, which I can seamlessly take off as I go through security. Everything is compartmentalized and easily accessible. Bam!
The women's vest is well-made and worth the $125 price tag, in my opinion. The company makes hoodies, workout clothes, jackets, trench coats, and other technology enabled clothing.  I was provided with a vest for this review but I'll be looking to purchase either another vest in a different color or a different travel-functional article of clothing. All opinions are my own.
If you had a travel vest, what would you pack in yours? Stay tuned for a surprise!
UPDATE: CONGRATULATIONS TIANY! YOU ARE THE WINNER OF THE SURPRISE…YOUR VERY OWN SCOTTEVEST!