Flying with young kids is stressful for both parents and children alike. We (thoughtful) parents are always looking for ways to keep them comfortable, entertained, happy, and relatively "quiet" during flights and transition processes. Passengers flying without kids appreciate us for our efforts but then again, it's really not about what they think, now is it? But I digress. In the vain of finding ways to keep the young kids at ease, entertained, and comfortable, I am always on the look out for products that will help me do just that. The "Get Ready to Fly" set from the Let's Go Chipper series aids in doing just that.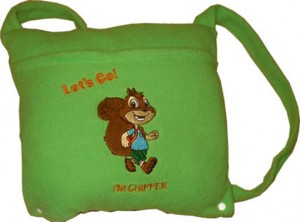 The plush yellow backpack set serves a number of purposes: storage, pillow, and activity. I like the fact that it's lightweight and soft and didn't feel like a nuisance to my 3 year old, whose back I strapped it to in order to test it out. Initially he tried to take it off but after I reattached it, he forgot about it and ran around the house for several minutes un-phased by it. The set was definitely too small for my 7 year old but I wanted to try it out on him anyway. As the company states in their product description, "the Get Ready to Fly activity set is the perfect gift to help excite and ready a child zero to six for the trip." However, as stated in their website store, I think 4 years old is the max.
The backpack is bright yellow, so, if you happen to have a runner, you'll be able to spot your mini Kid Flash before he or she gets too far. Be mindful that the backpack isn't something that would suffice on its own as your child's travel bag as it has just the one open pocket on top appropriate for a book, a couple of cars, or a stuffed animal.
The accompanying "Get Ready to Fly" activity book is nicely illustrated and also easy enough for a 6 year old+ to read to a younger sibling. The book explains the airport and flying process and features the one thing that I'm always preaching about: the packing checklist! Hallelujah! That, I really really liked. It also has coloring in the back, accompanied by a box of crayons, to also help keep the little one busy. Overall: Thumbs up!
One lucky reader will win a "Get Ready to Fly Set" of their own. The giveaway begins April 4, 2011 and ends April 7, 2011 11:59pm EST. To enter, LIKE Let's Go Chipper on Facebook and comment here that you did so. Your comment counts as an entry. Also, LIKE Mom's Guide to Travel on Facebook and that will also count as an entry. Don't fret current followers. If you already follow MGTT or Let's Go Chipper, all you have to do is comment below and your comment will count as a double entry as a reward for your ongoing patronage. 🙂 See, we strive to keep both kids AND parents happy.
Disclaimer: I received the Get Ready to Fly set from Let's Go Chipper in order to conduct this review, however, there was no monetary compensation involved.