Once your children reach elementary age, it's a good time to involve them in the trip planning process. It makes them more cooperative, attentive and vested when it comes time to travel. One of the ways you can do this is by allowing your child(ren) to choose activities and points of interest (POIs) for the family to enjoy together. Tools that they can use for research and planning include both the internet and guide books. However, a word of caution: too much information may be more detrimental than helpful. The internet is massive and average guide books can be intimidating.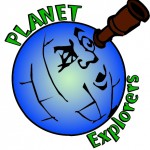 Luckily, there's a company in cyber space called Planet Explorers – they've taken the time to create informative guide books with the young traveler in mind. Luv them! I recently had a chance to review a couple of their guidebooks, Planet Explorers NYC and Planet Explorers Walt Disney World and there were several things about them that I loved.
Just about every page in the 60+ page guide books has at least one to two pictures on it, bolded facts, tons of bullet points and other visual elements to make the reading fun and fast.
History/Timeline of New York City; Walt Disney World.
Suggestions on places to eat near the recommended POIs.
At least 3 Fun Facts about a POI.
The author ties pop culture into some of the mentioned sites (e.g. "the American Museum of Natural History, where Ben Stiller had some crazy adventures in the movie Night at the Museum, is super famous and incredibly huge.")
A shout-out to the Boroughs (in the NYC guide book), including things to do there, which, a lot of writers miss and prior to the gentrification of places like Brooklyn, probably would've never bothered to mention.
Travel tips for NYC exploration; locating characters in Magic Kingdom/Epcot.
Movies about or filmed in NYC
Disney attractions Legend
WDW hotel/resort listings
Active Links within the guides
As an adult traveler, I really enjoyed reading these guide books. Keeping my own children in mind, I felt that the guidebooks were an easy read and captured language that kids could readily identify with ("What's cool about it?"). These guide books contain lots of history and fun facts to get the younger reader interested, excited, and involved with travel. They're quite comprehensive and they make excellent tools for parents looking to get their kids more involved in the family travel planning process.
Disclaimer: Planet Explorers provided me with the NYC and WDW guidebooks for the purpose of review. This is not a paid post; all opinions expressed are my own. This post contains affiliate links.