It only comes around once every four years, so why not do something special for the Leap year like a little extra traveling with your family? And who better to help you celebrate it than Disney?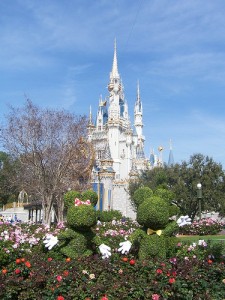 Walt Disney World in Orlando, Florida and Disney Land in Anaheim, California are both celebrating the leap day, February 29th, by keeping their doors open for 24 hours straight! Are you kidding me? Nope. Starting at 6 a.m. on February 29th, select attractions and entertainment will be open for 24 hours. It's like a Mickey Mouse binge for Disney die-hards looking to play all day and all night long.
That's not all folks. From now until February 29th, Disney is giving away a vacation everyday. To enter, all you have to do is text the keyword "DISNEYDAY" to the SMS shortcode "347639" ("DISNEY"). Message and data rates may apply. The vacation package for four includes:
airfare
accommodations
theme park tickets and more
You can also enter online HERE for free. Limit one entry per day. And while you're there, you can take a listen to a few celebrities talk about what they'd do if they had an extra day at Disney. What would you do? Me…it's a toss up between the Princess makeover and riding Space Mountain over and over again. Hey, it's a day, so I guess I could do both!
Good Luck. And be sure to come back and let me know if you won!