On the heels of the Kentucky Derby and the Preakness, Europe's ten year-running APASSIONATA horse show, makes it way to Baltimore. Horse fans will get a chance to experience APASSIONATA at the 1st Mariner Arena from June 8-June 10.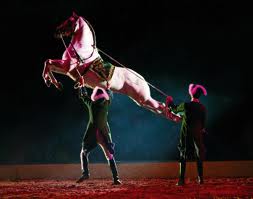 Fans from Helsinki to Prague and from Hamburg to London have fallen in love and followed Apassionata. The mounting success of the show forced the producer, Peter Massine, to turn his attention to North America. The show made its debut in Louisville, Kentucky in April, one week prior to the Kentucky Derby. And since the 137th Preakness just took place in Baltimore, horses are fresh on people's brains.
Please note, these aren't your competitive race horse. These are 40 trained performance horses found from all over Europe. Apassionata is said to have the equestrian community abuzz with the magic, beauty, and entertainment value of the show, perfect for any age.
GUESS WHAT? You, lucky reader that you are, have an opportunity to WIN a family 4 pack of tickets to the June 8th show. How? Follow the directions in the widget below. Winner will be chosen by 11:59 pm on May 3oth, 2012 and have 24 hours to respond before a new winner is selected.
AND, even if you don't win, you can still purchase a Family four pack for the price of THREE. That's 4 tickets for the price of 3. To make it even more plain, tickets:
Are good for all Markets, all Performances, all Prices Except VIP, VIP Blue Ribbon Seats, and $25 tickets
MUST BE PURCHASED IN QUANTITIES OF FOUR – NO LIMIT
DISCOUNT Code: FAMILY
You can purchase tickets HERE. If all that wasn't exciting enough for you, check out the trailer for the show HERE.