The Planner for Serious Broadcasters
Starting a live video show can be fun, scary and exciting.
You have this great idea for a show.
You start off strong but then you hit a wall.
Sometimes that wall is writer's block. Sometimes that wall is content management. Sometimes that wall is remembering to share your content across your social platforms. Sometimes that wall is simply inconsistency.
Or maybe you've been broadcasting for a while and you want to be more systematic with your broadcasts.
What if you defined your show's strategy, set your goals, designed your editorial calendar, and broke down episodes in bulk before you went to broadcast?
What if you kept everything in one place to work from and refer back to?
Imagine how much more organized and relaxed you would feel.
That's who this planner is for.
It is for the live video broadcaster:
who is SERIOUS about her show.
who accepts that she needs to be organized if she is going to stay consistent.
who recognizes that even the most successful television shows work from some sort of production binder.
who isn't afraid to invest in her success and who implements systems to help her achieve it.
Here is what you will find in the planner: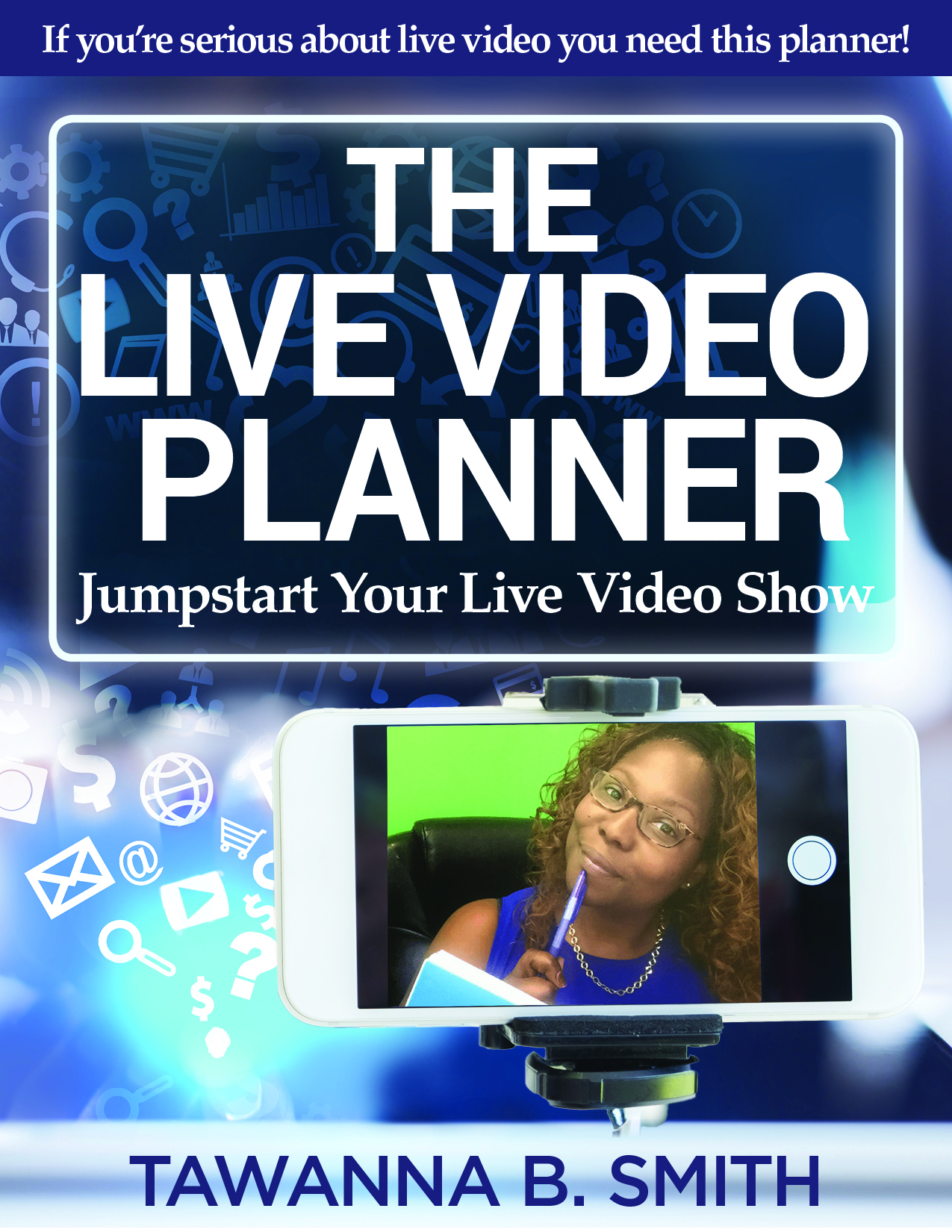 18-page Guide To Live Video Marketing

An easy to follow guide to help you set your strategy and goals.

Live Video Topic Ideas

Episode ideas to nudge your creative juices.

Sample On-Air Script

Don't know what to say? Enjoy this 2-page outline that provides exact language for hooking, opening and closing your audience.

Repurposing Guide

An outline of 20 different ways you can repurpose your content.

Post-Production Workflows

Sample workflows for Facebook Live and YouTube videos. Steps to take after your video is live on the platforms.

52 Episode Idea Sheets

2-page fill-in-the-blank sheets that breakdown what you will discuss in each of your episodes.

12 Blank Content Calendars

Organize your episode ideas on your Editorial Calendar for a quick glance of your month.
Only $67!
A Strategy Guide, Editorial Calendar, Episode Planner and Workbook all rolled into one.
Order Now!
Why I created this planner
As a busy mom and business owner, life can be hectic. Sometimes creativity comes in batches and sometimes it runs dry. With that in mind, I developed a system for capturing ideas and outlining promotion processes. It takes the guesswork out of what to discuss on your next show and what to do with your video once you've finished broadcasting.
You need this planner!
You can quickly jot down episode titles as they come and then flush out your ideas long before you press that Broadcast button.
The Live Video Success Planner will give you peace of mind to know what to talk about next; what main points you want to hit; the takeaways you want to provide to your viewers and the actions that you want them to take.
No more sticky notes all over your desk.
You can have everything organized in one book along with your strategy and goals for your show. 
I've been live broadcasting for over two and a half years. In that time I have had the same difficulty: consistency. When Tawanna offered her Live Video Planner I jumped on it. Reason being - she lives it. I've seen her success at live broadcasting. I know this will up my live broadcasting game!

Evie Totty

The workbook-planner is awesome. Like hands down fantastic. I think it's a wonderful resource to help live streamers get their ish together and stay focused.

Michelle D. Johnson Garrett
This book has been very eye opening for me in that, although I had been doing so many virtual videos, I had not been optimizing on how to use them. I am so excited to put all of Tawanna's repurposing ideas into practice and can already see the difference these practices will make for my coaching business in being able to serve others more. Thank you so much Tawanna for sharing!

Andrea Ormsby
Are you ready to take your live video content to the next level?
TAKE A PEAK INSIDE It's great to have a plan but a plan doesn't work unless you work it. This planner sets you up for success. Use it to better plan your work and work your plan.
The Live Video Planner from Tawanna Browne Smith on Vimeo.
FOR INTERNATIONAL ORDERS: 
Send My Planner!