Content Marketing is the Backbone of Your Business
Most entrepreneurs recognize the importance of planning their goals for their business. Unfortunately, few put stock into pre-planning their content to market their business properly. 
Do you?
The benefits of planning your content ahead of time include:
Overcoming writer's block.
Organizing your content around your promotions.
Creating systems that ensure consistency.
Marketing your message effortlessly. 
Staying relevant to life events and holidays.
Marketing without sounding salesy.
If you don't plan your content, it's hard to stay in step with your marketing which affects your bottom line.
Let's do things differently!
Here's what you can expect:
Hard Copy of the Live Video Planner
Detailed Instructions on how to Plan a Year's worth of Content
Private community for Masterminding
Market Your Business with Live Video
Insanity is doing the same thing, over and over again, but expecting different results.
Would you like to do things differently?
When you deliver a message to your audience, you are using some form of content to do so whether it be text, photos, audio or video. 
Industry leaders and top marketers recognize the power of video. It will continue to grow this year as the medium of choice for connecting with audiences.
Live video, in particular, positions you to engage more deeply and to establish trust faster. 
Those who recognize this valuable detail are leveraging live video consistently.
Will you do the same? 
If you're already using live video, are you serious about effectively and consistently using it to promote your message, offers, events, and services?
Do you want to develop systems for your live video content that help you stay consistent?
Join me in December!
Together we will sketch out your Editorial calendar, including key promotion times for your business.
Sign Up Today!
The workbook planner is awesome. Like hands down fantastic. I think it's a wonderful resource to help live streamers get their ish together and stay focused.

Michelle D. Johnson Garrett

I am very pleased. You have spent so much time preparing these presentations and I appreciate you so much.

Alan Greenstein

I've been live broadcasting for over two and a half years. In that time I have had the same difficulty: consistency. When Tawanna offered her Live Video Planner I jumped on it. Reason being - she lives it. I've seen her success at live broadcasting. And after attending her accompanying workshop today, I am even more impressed. She could have just sent out the planners and left it at that but instead, she walked us through it - giving us extra tips and insights to help us even further! I know this will up my live broadcasting game!

Evie Totty

Tawanna you totally rock, you over deliver on your promises and go the extra mile. Your workshops are knowledgeable, fun and interactive, you will have ideas and a plan by the end of Tawanna session. I came away with a whole years worth of content planned for my live vlogs and my video content planner. I was blown away with the level of competence and professionalism Tawanna displays. Do not second guess yourself people she's the real deal

Juliet Hilgendorf

This book has been very eye opening for me in that, although I had been doing so many virtual videos, I had not been optimizing on how to use them. I am so excited to put all of Tawanna's repurposing ideas into practice and can already see the difference these practices will make for my coaching business in being able to serve others more. Thank you so much Tawanna for sharing!

Andrea Ormsby

Tawanna's Live Video Planner is an excellent resource for planning out livestream content and includes a workflow to repurpose your content. What I loved about her content planning workshop was how she took us through the processes. Not only did she explain how to create a live video editorial calendar and how to repurpose content, but she showed us. Plus, I walked away with at least four video topics planned out and lots of ideas to fill the rest of my editorial calendar.

Darcy Zalewski
Workshop Details
The Live Video Content Planning Workshop runs from 10 am EST to 2 pm EST. 
For the workshop I will be using Zoom's Meeting platform where you will join onlne.
In the week following the workshop you will receive a recording of the session. 
For only $247 we are going to plan and mastermind the backbone of your success this year, your content!
Sign up TODAY!
Just send me The Live Video Planner
$67
The Package Deal
December 2018
Join me and several other marketers for a content-packed 4 hours during this marketing workshop.
You will fill out your Editorial Calendar to support your upcoming marketing campaigns.
You will learn about the latest tools to automate the creation and promotion process. 
You will learn how to repurpose your content to multiple platforms using my personal workflows.
You will learn how to create a marketing funnel using live video.
In preparation for the workshop, you will receive a PDF download of a blank editorial calendar for the year. You will also receive a PDF download of an Episode Worksheet that I use to prepare each one of my live videos.
In addition, you will receive a hard copy of the Live Video Planner workbook for you to use throughout the year.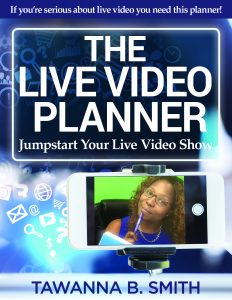 Ready to market your business using live video? Then sign up today!
Sign up Now!