Do you ever travel some place and have problems falling asleep? I do. New environment, new bed, new sounds – all these elements contribute to delayed sleep for me. My boys too. Sometimes I'll use a soothing sounds CD to rest. I was happy to try out Brookstone's top-rated sound therapy machine, the Tranquil Moments,  when I read that the sleep sounds in the machine are clinically proven to help you sleep better.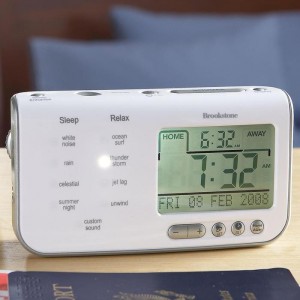 So…I've been using the travel size of Brookstone's Tranquil Moments Alarm Clock Sound Therapy Machine nightly for the past 2 weeks and I gotta say I love it. And so do my boys. My 8 year-old hijacked it from my room on repeat occasions, proclaiming that he "needs" it now to fall asleep. Oh-kaayy. I asked him "what have you been doing for the past 8 years to go to sleep? No answer. He did say that he likes the "Ocean Surf" setting. My 4 year-old on the other hand has chronic I'm-gonna-wake-up-in-the-middle-of-the-night-and-dance issues.  So far he seems to like the "Celestial" sound setting whereas my favorite  is  "Summer Night".
Other features of the Tranquil Moments sound therapy machine include:
a full function alarm clock with dual alarm settings
a built-in calendar
30, 60, 90-minute auto shut-off
Records and plays a 15-second voice memo
For every Tranquil Moments purchased from now until May 31,2012, Brookstone will donate $5 towards Save the Children's Mom's The Word! Campaign. Perfect for the traveling mom in your life. You can also try your hand at winning one of the Tranquil Moments Sleep Machines in our Mother's Day giveaway. Just follow the instructions in the Rafflecopter below and you're done! Winner will be announced on Thursday.
THIS CONTEST HAS ENDED..CONTEST WIDGET REMOVED.