London is a fun and exciting city with tons of things to do for couples, individuals, and families traveling there. However, for some people it can be an expensive trip when you factor in the cost for a hotel room. With rates averaging a little over $200 a night, London accommodations can easily account for over 50% of total trip costs.
One of the ways to control overall costs, especially for a traveling family, is to manage meal expenses. Renting an apartment home, like the Go With Oh apartment I stayed at in London, helps in this arena but also provides comfort and much-needed space.  I traveled with five women, and we all shared a three bedroom, two bathroom apartment. Our London accommodations also had two futons in the living room, perfect for an extra body.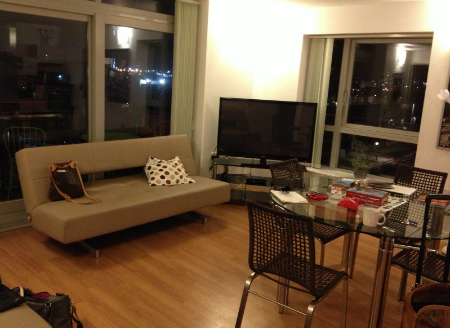 I always seem to visit London in the winter time. The first time I traveled there was during Thanksgiving, the second time I visited was in February, and this most recent time was at the beginning of November. Cold-weather travel requires extra clothing and therefore, larger luggage. Thankfully, the apartment was spacious enough to accommodate all of our outerwear and bags with no problem. A standard hotel room might have presented more of a challenge. Closets in the hallway and bedrooms, customary of what you'd find in an everyday apartment, contained all our belongings and kept the space clutter-free for the most part.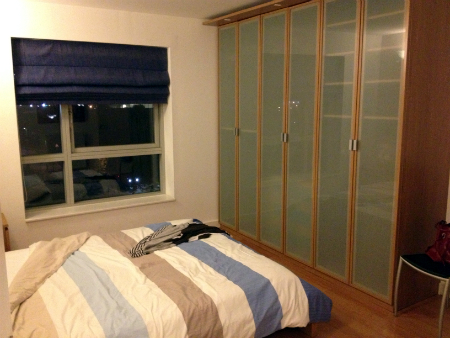 Although it was chilly in London, I appreciated being able to stand outside on our Go With Oh apartment balcony. We had a great view of East London, the complex's plaza, and our all-important bus stop. Most of our time, however, was spent chatting in the living room. We were either sitting on the couch playing games, watching the local news on the flat screen TV, or chatting as we surfed the internet, much thanks to the wireless router.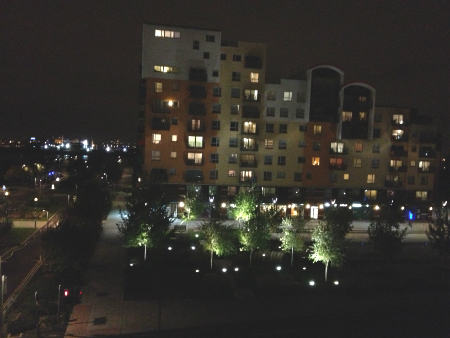 It was convenient to be able to wake up to a fully-equipped kitchen, stocked with all the cookware and silverware that we needed. We filled the refrigerator with our individual breakfast and snack-time needs, and crowded the dining room table with our evening libations, crackers, and cheeses. When I travel, I don't always want to sit down in a restaurant or dining room for breakfast. Sometimes I just want to wake up, grab a quick breakfast, eat it in my pajamas, and then get on with my day.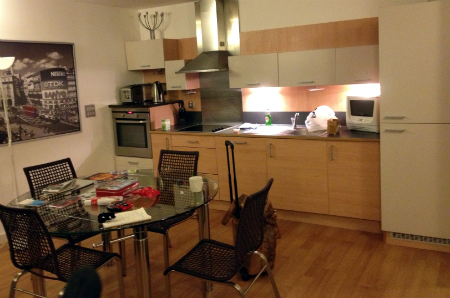 Two full bathrooms, a washing machine, ironing board, drying rack, dish washer and oven were the other amenities that made the  place feel more like home. Experiencing London this time around in a Go With Oh apartment set a different tone for my trip. I felt more immersed and less like a tourist.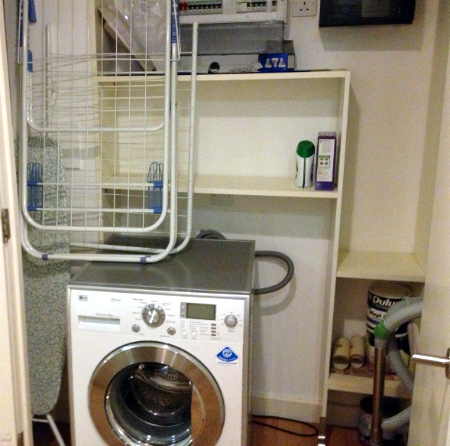 Luckily, London isn't the only place where you can rent a Go with Oh apartment. The company has flats in ten other European countries. Our London accommodations were perfect for the traveling family or a group of wandering friends.
Go With Oh put me up in an apartment in London for four days. All comments expressed in this post are of my honest opinion and are my own.