One essential clothing item that I pack when I travel is a sports bra. I love a good one. They're like socks, you can never have enough. Some are good for running, some are good for cross-training, some are good for yoga and stretching. Jockey's created a new Tech Terry Performance Sports Bra and it's awesome.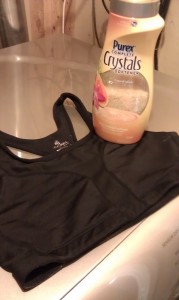 Here are some of it's benefits that I really like:
Moisture-wicking
A pocket for your keys
Breathable mesh panels
Now when I work out, I work out hard and with hard workouts come plenty of sweat. That's why I like to workout at home by myself – my clothes can get down right funky. I don't like funky. And I don't like my clothes not smelling fresh even after I wash them.  When I learned that fabric softeners mess up the wicking properties of sportswear, I had to cancel all plans of using them as freshening agents until I learned that Purex was coming out with a new fabric softener, Purex Crystals. [Disclosure: I became one of their Insiders last year.] Honestly and truly, they saved the day for me.
I didn't know much about the science of fabric softeners and what they do to clothes but as an Insider, I quickly learned. I found out that Purex Crystals are a safe alternative to regular liquid fabric softener and that they don't leave oil residue on clothes. I know for a fact that my performance sportswear was still doing the job after using the Crystals and that they smelled fresh. That's all I needed to know. If you're a fan of fabric softener and you could use a new sports bra, I've got a nice little giveaway for you.
Giveaway
To start the New Year off right, we're giving away a Jockey Terry Performance Sports Bra and a bottle of Purex Crystals. Entering the giveaway is simple, just use the Rafflecopter widget below. As an added incentive to sign up for a 20% off coupon for a Jockey sports bra, you will get 5 extra entries. How cool is that? The winner, drawn at random, will be announced on January 30, 2012 and will have 24 hours to respond before the next entry will be drawn.


a Rafflecopter giveaway
How do you keep your hard-working clothes smelling fresh? Don't forget to leave a comment below.
Disclosure: Jockey and Purex provided free samples of their products for my review. All views expressed in this post are my own.